THE CONCEPTS OF AYURVEDA AND PALI LITERATURE IN CONNECTION TO PSYCHOTHERAPY
Rajesh Shivajirao Kolarkar

Professor, Department of Ayurved Samhita and Manasa Roga. YMT Ayurvedic Medical College Kharghar, Navi Mumbai. Maharashtra, India.

Rajashree Rajesh Kolarkar

Department of Shalya Tantra, Smt. K.G.Mittal Ayurvedic Medical college Mumbai, Maharashtra, India.
Abstract
The perfect balance of Mind and body is considered as complete health in Pali literature as well as in Ayurveda. Pali literature and Ayurveda have their own identity as most ancient and traditional System of Medicine in India. The universal teachings of the Buddha are the most precious legacy ancient India gave to the world. The teachings are a practical code of conduct, a way of purity and of gracious living. There is the scientific study of the truth pertaining to mind and matter, and the ultimate truth beyond. In fact, the Buddha should be more appropriately known as a super-scientist who studied the entire laws of nature governing the Universe, by direct personal experience. The Buddha's rational teachings are clearly explained in the Eight-fold Noble Path, divided in three divisions of Sila (morality), Samadhi (mastery over the mind), Panna i.e. 'Pragya' (purification of the mind, by developing insight). In Ayurveda Psychotherapy is Satvavajaya Chikitsa and good conduct. Aim is to augment the Satva Guna is order to correct the imbalance in state of Rajas (passion) and Tamas (inertia). Sattvavajaya as psychotherapy, is the mental restraint, or a "mind control" as referred by Caraka, as well as Vagbhata is achieved Dnyan (education), Vidnyan (training in developing skill), Dhairya (development of coping mechanism, Smruti (memory enhancement), Samadhi (concentration of mind). According to WHO, Mental disorders is the common problem. The burden of mental disorders continues to grow with significant impacts on health and major social, human rights and economic consequences in all countries of the world.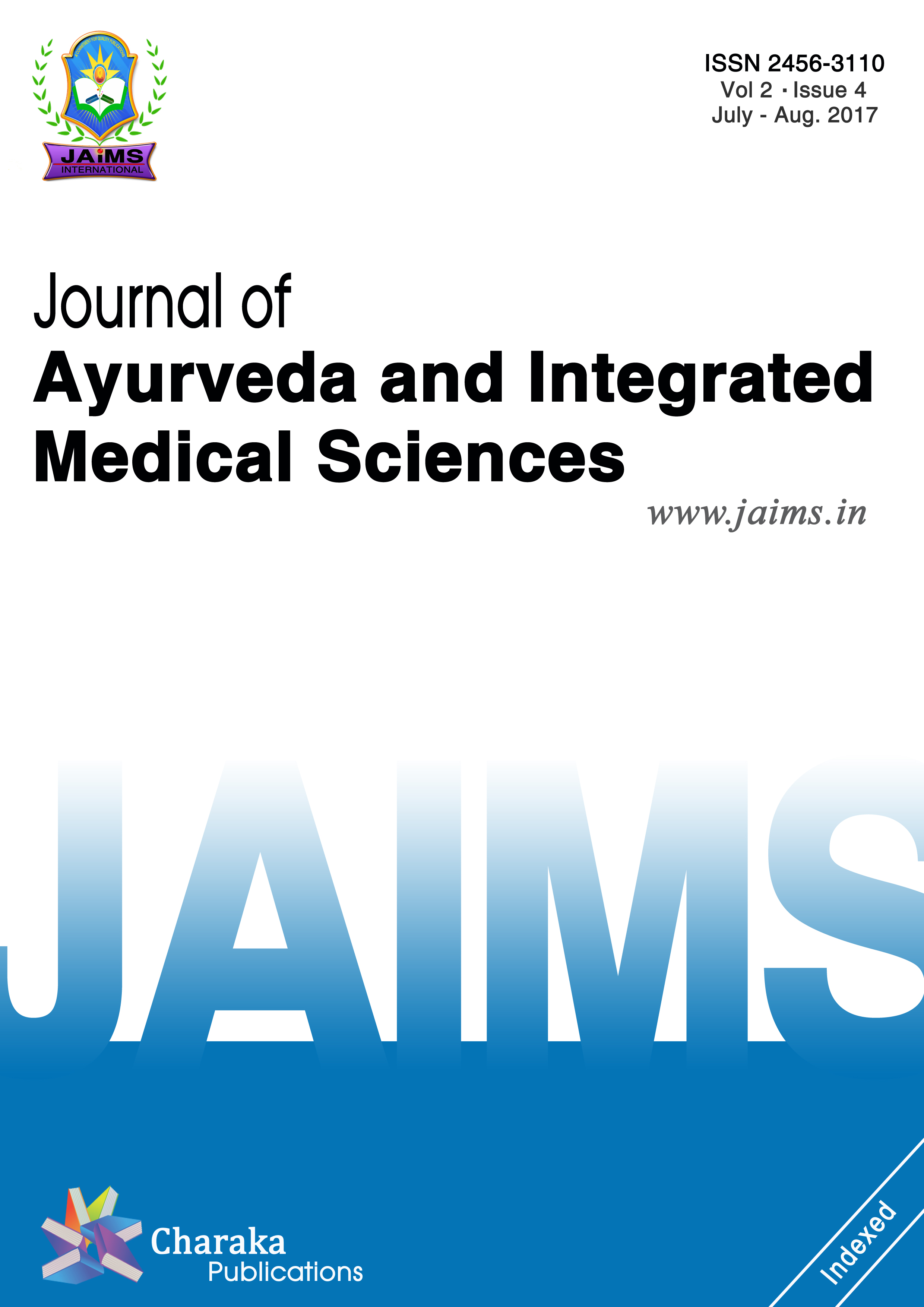 How to Cite
KOLARKAR, Rajesh Shivajirao; KOLARKAR, Rajashree Rajesh. THE CONCEPTS OF AYURVEDA AND PALI LITERATURE IN CONNECTION TO PSYCHOTHERAPY.
Journal of Ayurveda and Integrated Medical Sciences (ISSN 2456-3110)
, http://www.jaims.in/index.php/jaims/pages/view/Citation, v. 2, n. 3, p. 153 - 161, july 2017. ISSN 2456-3110. Available at: <
http://jaims.in/index.php/jaims/article/view/252
>. Date accessed: 21 may 2018. doi:
https://doi.org/10.21760/jaims.v2i3.8224
.
This work is licensed under a Creative Commons Attribution-NonCommercial-NoDerivatives 4.0 International License.