CLINICAL EVALUATION OF TIKTA KSHIRA BASTI AND PATRAPINDA SWEDA IN CERVICAL SPONDYLOSIS (ASTHIGATA VATA)
Rupesh Wadher

Assistant Professor at Proposed Post Graduate Department of Basic Principles, Government Ayurveda College, Junagadh, (Guj) India
Abstract
Cervical bone is an identification of human body which differentiate from animal in a unique way. Due to its multidimensional movement human workings are effortless. But due to modernisation and fast life some hazards become nail of comfort of humans. Cervical spondylosis is one of them. Ayurveda has its good solution specially panchakarma procedure which is advisable by acharya sushruta itself. Here in present article an effort has been made to rule out the evaluation of tikta kshira basti and patrapinda sweda in cervical spondylosis in clinical practice.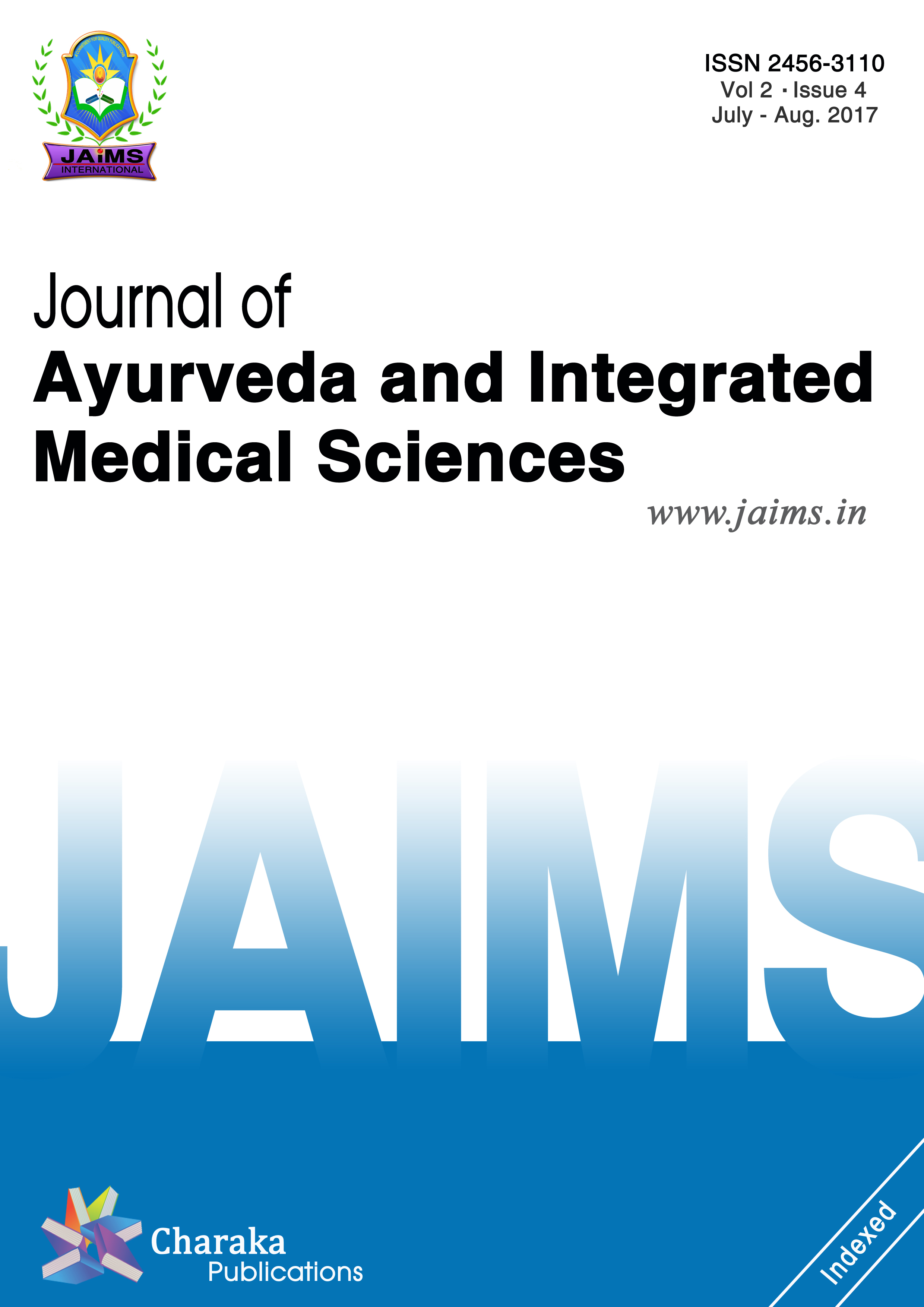 How to Cite
WADHER, Rupesh. CLINICAL EVALUATION OF TIKTA KSHIRA BASTI AND PATRAPINDA SWEDA IN CERVICAL SPONDYLOSIS (ASTHIGATA VATA).
Journal of Ayurveda and Integrated Medical Sciences (ISSN 2456-3110)
, http://www.jaims.in/index.php/jaims/pages/view/Citation, v. 2, n. 3, p. 27 - 33, july 2017. ISSN 2456-3110. Available at: <
http://jaims.in/index.php/jaims/article/view/273
>. Date accessed: 22 jan. 2018. doi:
https://doi.org/10.21760/jaims.v2i3.8205
.
This work is licensed under a Creative Commons Attribution-NonCommercial-NoDerivatives 4.0 International License.