EXPERIMENTAL EVALUATION OF DIURETIC EFFECT OF USHEERA MOOLA (VETIVERIA ZIZANIOIDES LINN NASH)
Prasanna V Savanur

Professor & HoD, Dept of Dravyaguna, KLEU's Shri B M Kankanawadi Ayurveda Mahavidyalaya Belagavi

Jayalaxmi Menasagi

Reader, Dept of Agadatantra, DGM Ayurvedic Medical College, Gadag
Abstract
By literary survey Usheera is mentioned from vedakala. Some nighantus and some ayurvedic modern books mention that, it has Mootravirechaniya action used in Mootrakricchra. This drug is easily available and grows all over India. Hence roots of   Vetiveria zizanioides (Linn) Nash i.e. Usheera was selected for this study. Most of Ayurvedic drugs or formulations are known for their safety and efficacy. Hence literary research is done to specify a medicine that can act as a diuretic. Lots of drugs are mentioned as Mootravirechaniya (diuretic) in Ayurvedic classics. Here Mootravirechaniya is also called as Bastishodhana and Mootrala. They are having sheeta veerya or ushna veerya, madhura, amla, lavana rasas, drava and upakledi properties. The selected drug Usheera is having sheeta and madhura properties. Diuretics are the drugs which cause a net loss of sodium and water in urine. These are widely prescribed drugs. They are used whenever there is need to eliminate excess of water and ion accumulated in tissues.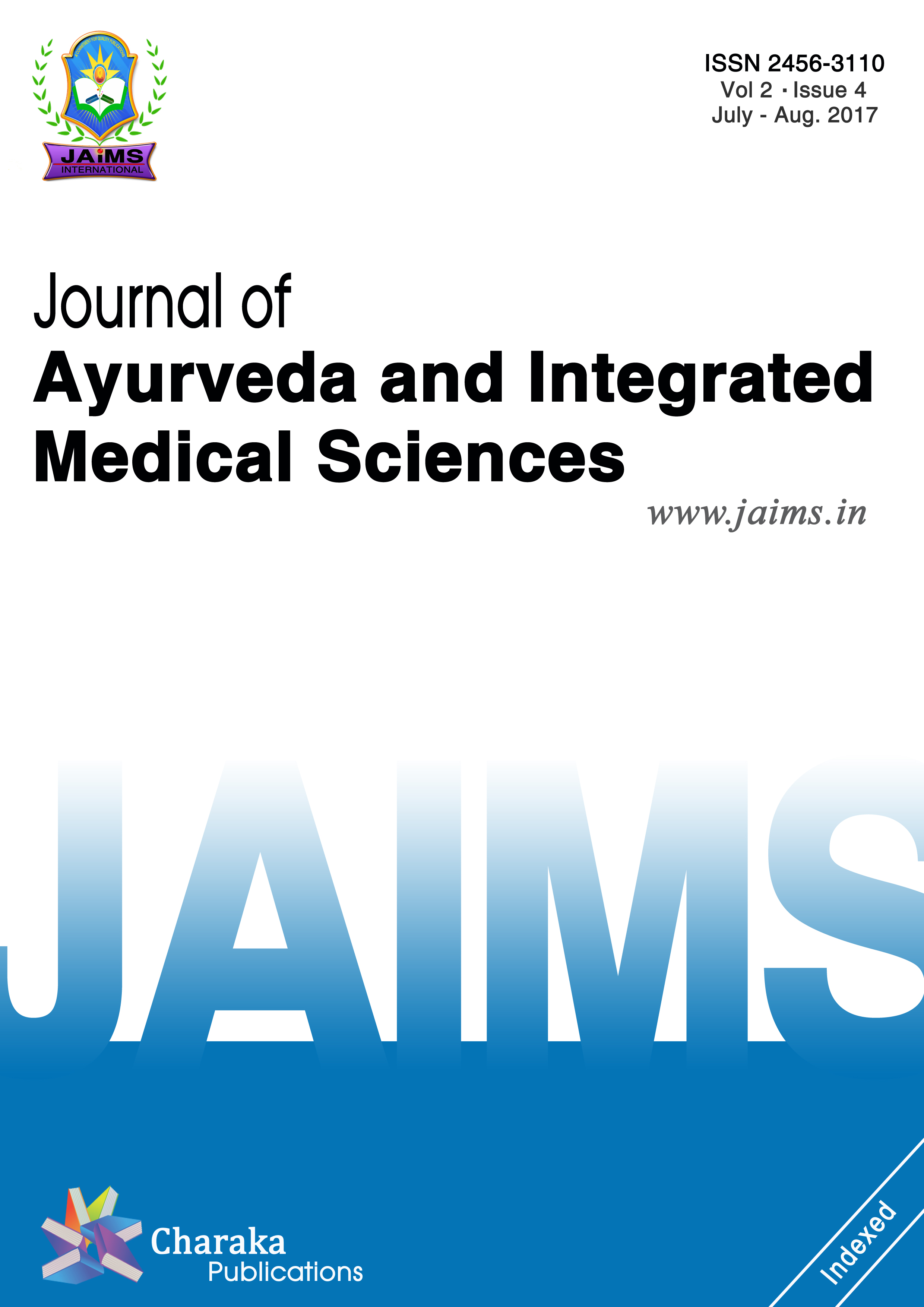 How to Cite
SAVANUR, Prasanna V; MENASAGI, Jayalaxmi. EXPERIMENTAL EVALUATION OF DIURETIC EFFECT OF USHEERA MOOLA (VETIVERIA ZIZANIOIDES LINN NASH).
Journal of Ayurveda and Integrated Medical Sciences (ISSN 2456-3110)
, http://www.jaims.in/index.php/jaims/pages/view/Citation, v. 2, n. 3, p. 84 - 91, july 2017. ISSN 2456-3110. Available at: <
http://jaims.in/index.php/jaims/article/view/298
>. Date accessed: 21 may 2018. doi:
https://doi.org/10.21760/jaims.v2i3.8214
.
This work is licensed under a Creative Commons Attribution-NonCommercial-NoDerivatives 4.0 International License.