A CLINICAL STUDY ON THE EFFICACY OF LAVANGADI VATI AND KAPHAKETU RASA IN THE MANAGEMENT OF KAPHAJA KASA W.S.R TO CHRONIC BRONCHITIS
Shilpa L S

P G Scholar Department of Kayachikitsa, Ayurveda Mahavidyalaya, Hubli, Karnataka

Prashanth A S

Prof, H.O.D & Guide, Department of Kayachikitsa, Ayurveda Mahavidyalaya, Hubli, Karnataka
Abstract
A man wishing to be healthy throughout his life has to be healthy everyday as well.  Human being is continuously attached with external environment through Respiration and prone to diseases because of Urbanization. Due to less resistance or due to decreased immunity and non adaptability, against environmental influences, leads to body protecting phenomenon produces Cough. In ayurvedic texts kasa is dealt in detail. Various Shodhana and Shamana therapies are mentioned for the treatment of Kaphajakasa in the classics. Amongst the various formulations indicated for Kaphajakasa, Kaphaketu Rasa along with Vyagrahadi Kashaya as Anupana and Lavangadi vati along with Elakanadi  Kashaya as Anupana is selected in different 2 groups as drugs are easily available and economical. So an attempt will be made to evaluate the effect of Kaphaketu Rasa along with Vyagradi Kashaya as Anupana and Lavangadi Vati along with Elakanadi Kashayam as Anupana in the management of Kaphaja Kasa w.s.r to Chronic Bronchitis. So the objective of the study is to establish such a treatment modality which can be helpful to treat Kaphaja Kasa and restoring the functional capacity of Pranavaha Srotas.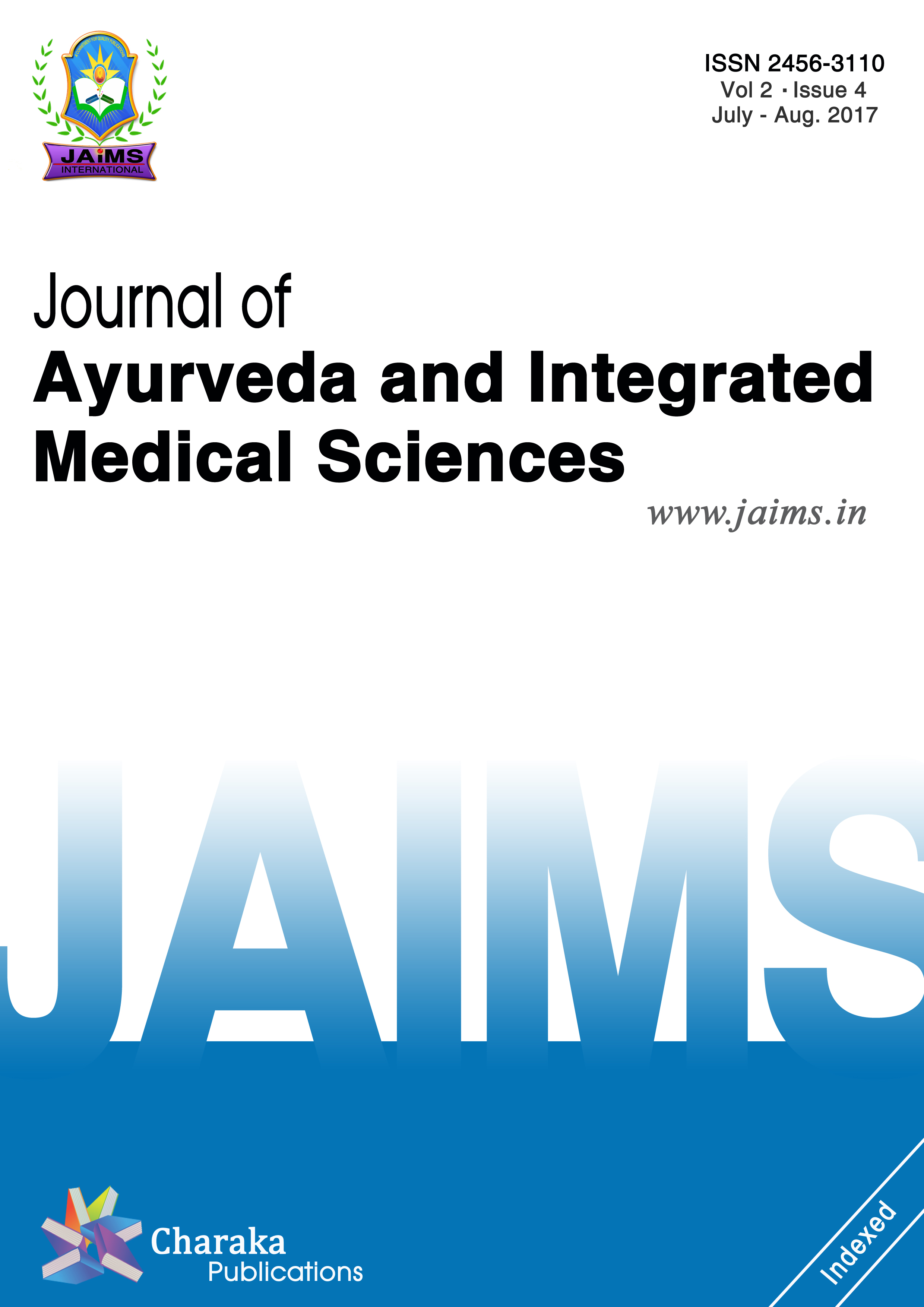 How to Cite
S, Shilpa L; S, Prashanth A. A CLINICAL STUDY ON THE EFFICACY OF LAVANGADI VATI AND KAPHAKETU RASA IN THE MANAGEMENT OF KAPHAJA KASA W.S.R TO CHRONIC BRONCHITIS.
Journal of Ayurveda and Integrated Medical Sciences (ISSN 2456-3110)
, http://www.jaims.in/index.php/jaims/pages/view/Citation, v. 2, n. 3, p. 38 - 42, july 2017. ISSN 2456-3110. Available at: <
http://jaims.in/index.php/jaims/article/view/309
>. Date accessed: 23 may 2018. doi:
https://doi.org/10.21760/jaims.v2i3.8207
.
This work is licensed under a Creative Commons Attribution-NonCommercial-NoDerivatives 4.0 International License.