Effect of Shirish versus Diclofenac Sodium in PostOperative Pain Management - A Randomized Comparative Clinical Trial
Dr. Ajinkya A. Tale

2nd Year Post Graduate Scholar, Department of Shalya Tantra, Hon. Shri. Annasaheb Dange Ayurved Medical College, Post Graduate & Research Center, Ashta, Dist. Sangli, Maharashtra, INDIA.

Dr. Manoj Patil

Reader, Department of Shalya Tantra, Hon. Shri. Annasaheb Dange Ayurved Medical College, Post Graduate & Research Center, Ashta, Dist. Sangli, Maharashtra, INDIA.
Keywords:
Anesthesia, Hernia, Appendicitis, Shirish, Pain, Inguinoscrotal Surgeries
Abstract
Introduction: Post-operative pain is physiological pain which is caused due to tissue trauma. Drugs such as NSAIDs (Non Steroidal Anti Inflammatory Drugs) and Opioids are used for post-operative pain management but are associated with their own drawbacks. Shirish has been in use in Ayurvedic practice for analgesia. It is known to relieve pain and can be used to supplement anesthesia and also get rid of adverse effect of modern analgesic drugs. Aims and Objective: To study the comparative effect of Shirish and Diclofenac sodium in post-operative pain management. Materials and Methods: Randomized clinical trial with Group A (Control Group: Tab Diclofenac sodium 50 mg as a single dose) and Group B (Trial Group: Cap Shirish 500 mg as a single dose). Those who had undergone surgeries like hernia, appendicitis operation under spinal anesthesia were selected as per inclusion criteria. Vitals, desirable effect and undesirable effect, total surgical time, the assessment criteria observed and recorded. Results: Cap. Shirish does not show any undesirable or serious ill effects and altered values of vitals as per statistical analysis. As per visual assessment scale, pain felt by Trial group was earlier than control group. Conclusions: Shirish Vati has analgesic property but its analgesic property and pain threshold capacity is lesser than those of Diclofenac Sodium.
References
Merskey NB. A sample list of frequently used terms. International Association for the Study of Pain Task Force on Taxonomy. Classification of Chronic Pain. 2nd ed. Seattle: IASP Press; 1994. pp. 209–14. [Google Scholar]

Shukla AV, Tripathi B. Charak Samhita. 2nd ed. Vol. 1. Varanasi: Chaukhamba Publication Varanasi; 2000. p. 77. [Google Scholar]

Shastri JL. Dravyaguna Vijnana. Vol. 2. Varanasi: Chaukhamba Orientalia; 2009. pp. 834–5. (840-1). [Google Scholar]

Vaidya SS, Dole VA. Bhaishaja Kalpana. Pune: Proficient Publication House; 2011. p. 135.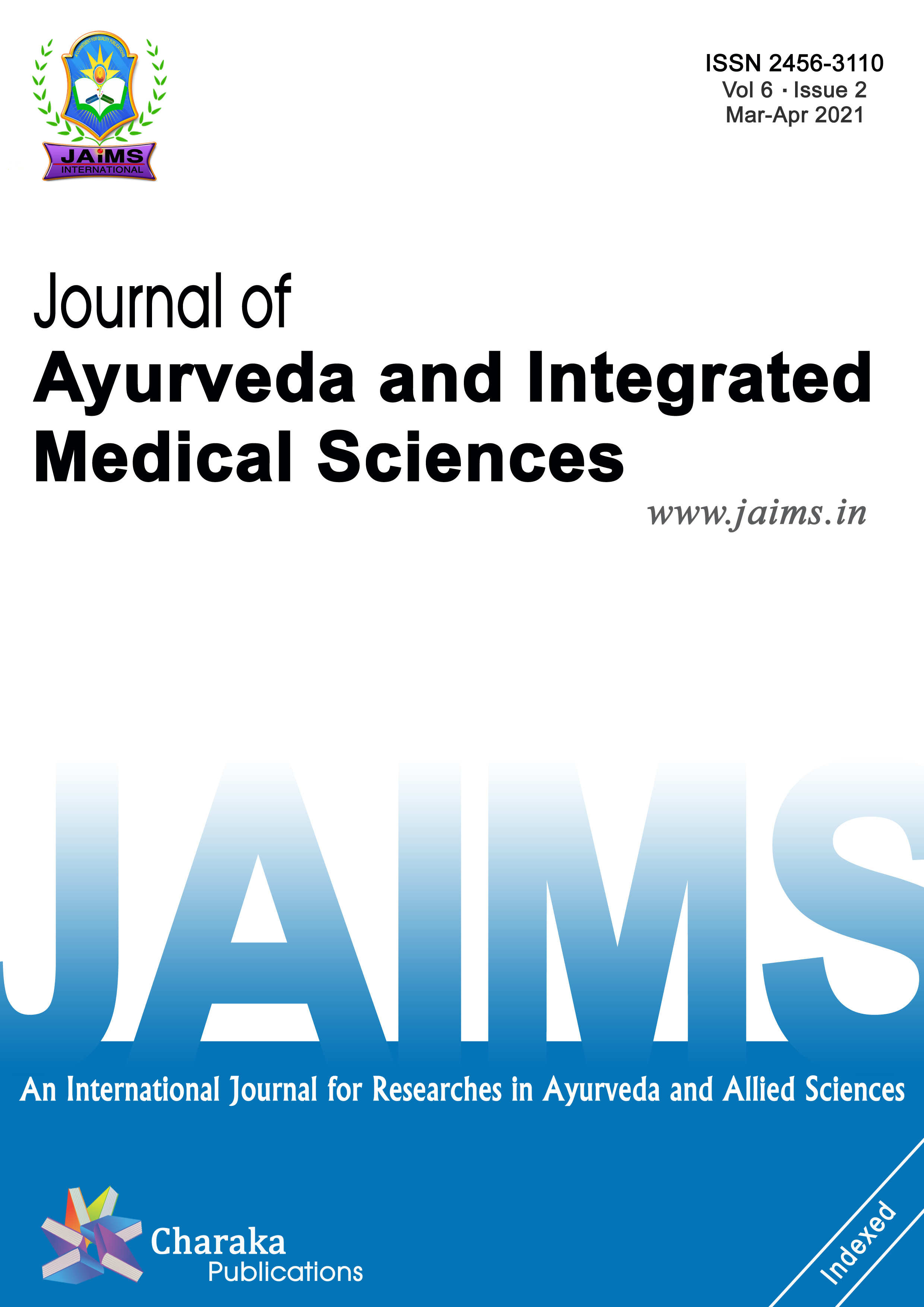 Journal of Ayurveda and Integrated Medical Sciences (JAIMS) retains the copyright of the contents of this journal but grant the readers the right to use the contents with terms and conditions under a creative common attribution licenses 4 of Attribution, Share Alike and Non-commercial type (CC BY-NC-SA) that allows copy, distribute, display, and perform the work and make derivative works based on it only for non-commercial purposes.

This work is licensed under a Creative Commons Attribution-NonCommercial-ShareAlike 4.0 International License.