Trends of Research studies on Gridhrasi
Dr. Nalini N

Associate Professor, Department of Shalya Tantra, Government Ayurveda Medical College, Mysuru, Karnataka, INDIA.

Yogita Bali

Professor, Department of Shalya Tantra, Sushruta Ayurvedic Medical College, Bangaluru, INDIA

Sathish HS

Professor, Department of Shalya Tantra, TMAE's Ayurvedic Medical College, Shivamoga, Karnataka, INDIA.
Keywords:
Gridhrasi, Vatavyadhi
Abstract
Gridhrasi is a pain dominating Vata Vyadhi and is surge in incidence is alarming. A large group of patients with this condition suffer from limited or restricted daily routine activities and is posing burden on socioeconomic life of an individual. This disease is being studied routinely in postgraduate departments, this article attempts to assess the trends and pattern of research studies conducted till date on the subject and also to highlight the unexplored areas to bring out the best possible solution for this malady. Number of studies are targeted on assessing the therapeutical potential of a modality or a drug and least number of studies are targeted on the studying the disease pathology.
References
Bakhashi B, Gupta SK, Rajagopala M, Bhuyan C. A comparative study of Agni karma with Lauha, Tamra and Panchadhatu Shalakas in Gridhrasi (Sciatica). Ayu. 2010 Apr;31(2):240.

Sushrutha. Vol 2. Varanasi: Chaukhambha Visvabharati; 2005. Sushrutha samhitha with English translation of text and Dalhana's commentary along with critical notes edited and translated by Priyavrat Sharma; p. 695.

Baghel MS, Researches in Ayurveda; Mridhu Publications, Jamnagar. 2005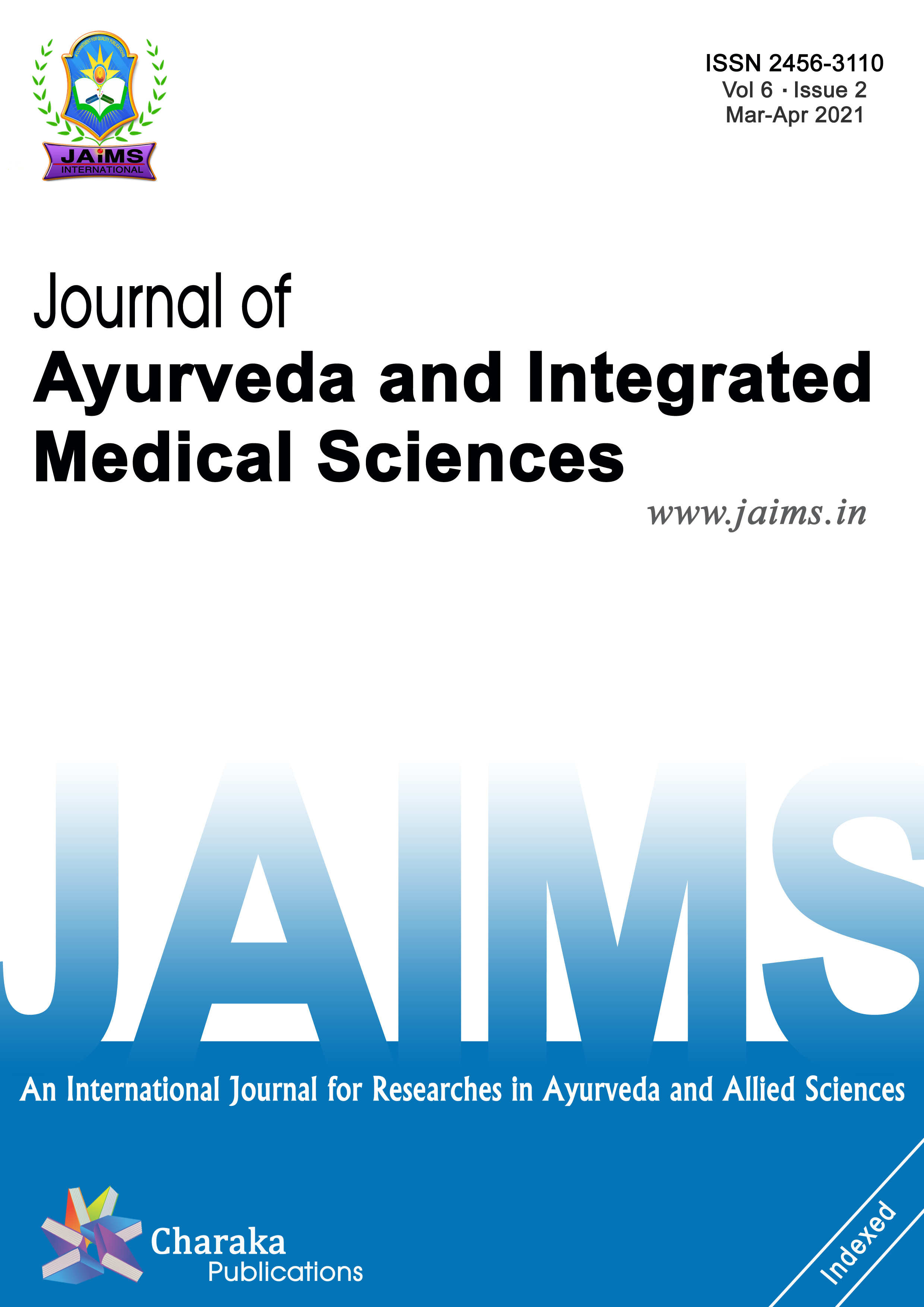 Journal of Ayurveda and Integrated Medical Sciences (JAIMS) retains the copyright of the contents of this journal but grant the readers the right to use the contents with terms and conditions under a creative common attribution licenses 4 of Attribution, Share Alike and Non-commercial type (CC BY-NC-SA) that allows copy, distribute, display, and perform the work and make derivative works based on it only for non-commercial purposes.

This work is licensed under a Creative Commons Attribution-NonCommercial-ShareAlike 4.0 International License.