Review on Vyanga vis a vis Melasma
Dr. Swati Patare

Post Graduate Scholar, Dept. of Kaychikitsa, BLDEA's A.V.S. Ayurveda Mahavidyalaya, Vijayapura, Karnataka, INDIA.

Dr. S. P. Mangoli

Professor & HOD, Dept. of Kaychikitsa, BLDEA's A.V.S. Ayurveda Mahavidyalaya, Vijayapura, Karnataka, INDIA.
Keywords:
Melasma, Vyanga, Kshudra Roga, Antah-Parimarjan, Bahi-Parimarjana
Abstract
Vyanga (Melasma) is a common, acquired and symmetrical hypermelanosis characterized by more or less dark brownish maculae, with irregular contour, but clear limits, on photo exposed areas, especially the face, forehead, temples, and more rarely on the nose, eyelids, chin, and upper lips. In Ayurveda, Vyanga has been elaborated as one of the Kshudra Rogas (minor ailments). Vyanga is a disease which belongs to Swalpa variety of Ksudra Roga. Vayu aggravated by Krodha and Ayasa, get associated with Pitta and suddenly produces a thin, grey colored circular patch when reaches the face. Both modern and Ayurvedic sciences have considered the use of topical as well as oral medications and their combinations for the treatment of Vyanga. In Ayurveda, Vyanga has been treated both by Antah-Parimarjan and Bahi-Parimarjana Chikitsa. Though, several Ayurvedic texts such as Sushruta Samhita, Ashtanga Samgraha & Hridaya, etc., have elaborated the pathophysiology and treatment of Vyanga, the available references are scattered. Thus, there is need of in-depth review and compilation of Ayurvedic texts and literatures. This review may be helpful in better understanding of comparative pathophysiology and management of Vyanga (Melasma).
References
Fitzpatrick, T. B., and Szabo, G. (1959) The melanocyte: cytology and cytochemistry. J. Invest. Dermatol. 32, 197–209.

Sturm, R. A., Box, N. F., and Ramsay, M. (1998) Human pigmentation genetics: the difference is only skin deep. Bioessays 20, 712–721.

Sanchez NP, Pathak MA, Sato S, Fitzpatrick TB, Sanchez JL, Mihm MC Jr. Melasma: a clinical, light microscopic, ultrastructural, and immunofluorescence study. J Am Acad Dermatol. 1981; 4:698-710.

Mosher DB, Fitzpatrick TB, Ortonne JP, Hori Y. Normal skin color and General Considerations of Pigmentary Disorders. In: Fitzpatrick TB, Eisen AZ, Wolff K, Freedberg IM, Austen KF. Dermatology in General Medicine. New York: Mcgraw-Hill; 1999. p. 936-44;

Grimes PE. Melasma. Etiologic and therapeutic considerations. Arch Der- matol. 1995;131:1453-7.

Kang WH, Yoon KH, Lee ES, Kim J, Lee KB, Yim H, et al. Melasma: histo- pathological characteristics in 56 Ko- rean patients. Br J Dermatol. 2002;146:228-37.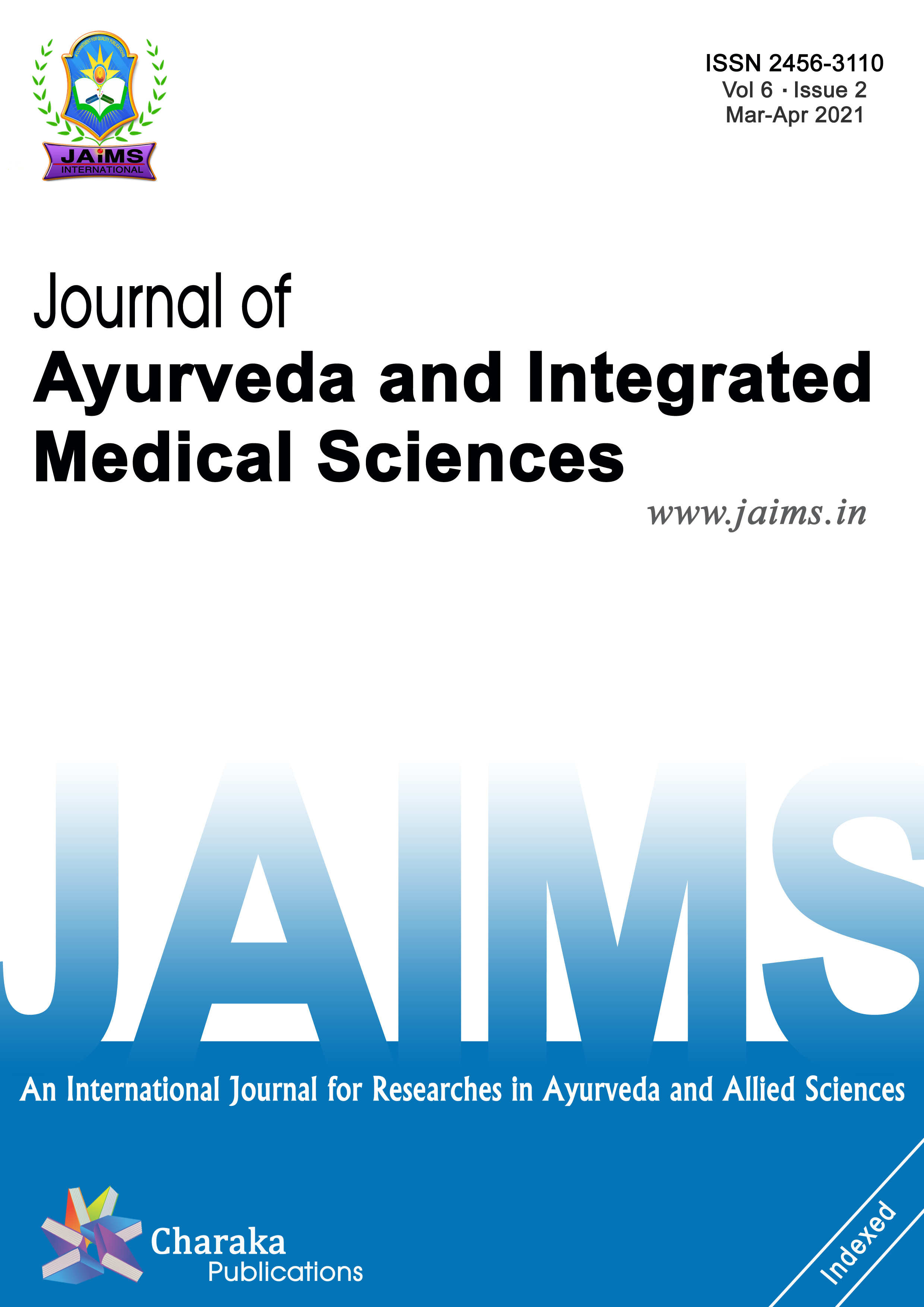 Journal of Ayurveda and Integrated Medical Sciences (JAIMS) retains the copyright of the contents of this journal but grant the readers the right to use the contents with terms and conditions under a creative common attribution licenses 4 of Attribution, Share Alike and Non-commercial type (CC BY-NC-SA) that allows copy, distribute, display, and perform the work and make derivative works based on it only for non-commercial purposes.

This work is licensed under a Creative Commons Attribution-NonCommercial-ShareAlike 4.0 International License.