STUDY OF MORBIDITY STATUS IN CHILDREN AND THE EFFECT OF GUDUCHI SYRUP AS AN IMMUNOMODULATOR FOR LOWERING DOWN THE MORBIDITY RATE
Deepak Kumar

Assistant Professor, Department of Kaumarbhritya, Quadra Institute of Ayurved, Roorkee, Haridwar, Uttarakhand, India.

Nisha Kumari Ojha

Assistant Professor, PG Department of Kaumarbhritya, National Institute of Ayurveda, Jaipur, Rajasthan, India.
Abstract
Introduction: Children are the most vulnerable group for illness, as their immune system is not fully developed. Frequent illnesses among children limit their growth and lead to improper development. Despite of high advancement in immunization to boost up the defence mechanism, the medical science is yet to reach a full proof mechanism against the virulent organisms. Guduchi (Tinospora cordifolia TC.), a well known Rasayana (Rejuvenation) in Ayurveda, is supposed to build up the Dhatus (tissues) in children and the immune system also. Further various clinical and experimental studies have proved immunomodulatory activity of Guduchi (TC). Material and Methods: Study was conducted on 100 children with frequent episodes of fever, diarrhea, respiratory and skin infections were divided into 2 groups. Group A children were administered Guduchi syrup and group B were administered placebo (sugar syrup) in doses of 1ml/kg/day in divided doses. Duration of trial was 90 days and follow up were done monthly. Results and Discussion: In group A where trial drug (Guduchi Syrup) was given, improvement in all morbidity scores were found highly significant except for Dyspnoea and Sore throat. In Dyspnoea and Sore throat significant results were found. In the present study, the trial drug Guduchi Syrup, decreased TLC, increased IgG level in children at a statistical highly significant level (p<0.001) and increased haemoglobin concentration at significant level (p<0.01) suggesting the effectiveness of the drug. In group B where placebo sugar syrup was given, insignificant result was observed. Conclusion: Guduchi (TC) works like an immunomodulator which lowered down the morbidity rate and therefore can be a simple and cost effective remedy to bring down the morbidity rate in children.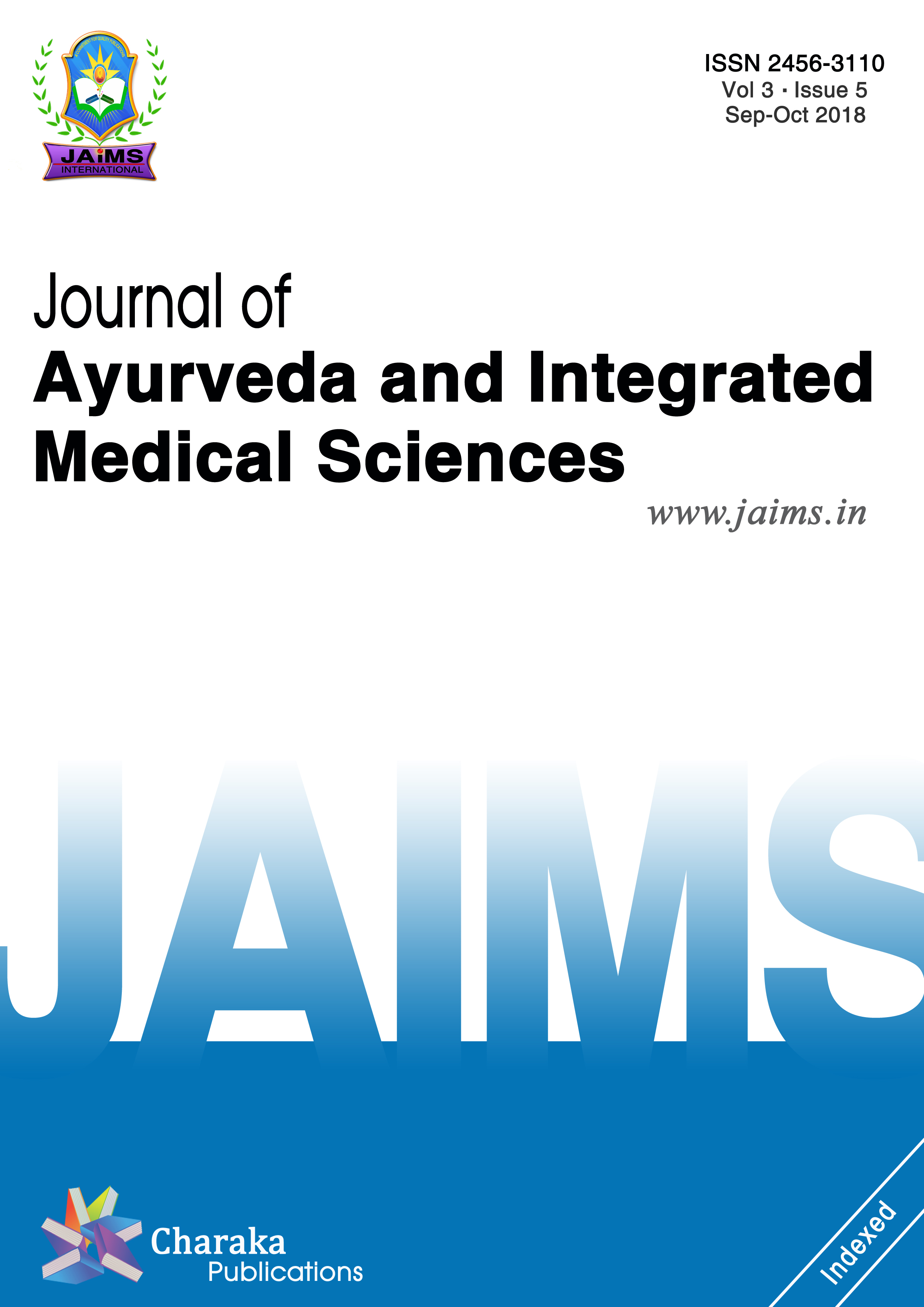 How to Cite
KUMAR, Deepak; OJHA, Nisha Kumari. STUDY OF MORBIDITY STATUS IN CHILDREN AND THE EFFECT OF GUDUCHI SYRUP AS AN IMMUNOMODULATOR FOR LOWERING DOWN THE MORBIDITY RATE.
Journal of Ayurveda and Integrated Medical Sciences (ISSN 2456-3110)
, http://www.jaims.in/index.php/jaims/pages/view/Citation, v. 3, n. 2, p. 07 - 14, may 2018. ISSN 2456-3110. Available at: <
https://jaims.in/index.php/jaims/article/view/494
>. Date accessed: 19 jan. 2019. doi:
https://doi.org/10.21760/jaims.v3i02.12080
.
This work is licensed under a Creative Commons Attribution-NonCommercial-NoDerivatives 4.0 International License.