A review of some important Ayurvedic medicinal vegetable plants
Anil U. Kulkarni

Department of Botany, Lal Bahadur Shastri Senior College, Partur, Dist. Jalna, Maharashtra, INDIA.

Yogeshwari Kulkarni

Matoshri Asarabai Darade Ayurvedic College Yeola, Dist. Nasik, Maharashtra, INDIA.
Keywords:
Vegetable, Medicinal, Ayurvedic potential, Diseases, Treatment
Abstract
Medicinal plants have been used from the ancient civilization of the society. Traditional Indian medicine (Ayurvedic) is becoming increasingly popular, with much chronic condition responding to it well. From thousands of years these plants have been used to treat and prevent many types of disease along with epidemic. Every portion of the plant has medicinal properties. A detailed knowledge of the action of food spices and medicinal plant is need in order to understand their potential influence fully. The Ayurvedic medicine are based on natural herbal materials, majority of regular cultivated as well as wild vegetables have medicinal property and can be used to treat common ailments. In the present paper attempts were made on ethno-medicinal properties of some cultivated and wild vegetables from, published research articles and books. On the basis of available ethno-botanical information and Ayurvedic used of vegetables through published literature studies. It observed that 24 vegetables from 12 families. These may be cultivated or wild are very useful. Various parts of the vegetables that is root, stem, bark, leaves, flowers, fruits or seeds may be used in Ayurvedic treatment for curing to the diseases. The vegetables plant part being used for both internal and external. Different disease like, diabetes, rheumatism, dysentery, dyspepsia, gastritis, constipation, urinary disorders, are mostly treated by these cultivated as well as wild vegetables. These are easily available in natural habitat cheap and excellent source of nutrients but it is needed to understand the Ayurvedic prospective of these vegetables.
References
Neelam Bamola, Poonam Verma, Chandranandani Negi. A Review on Some Traditional Medicinal Plants. Int. J. Life Sci. Scienti Res., (2018) 4(1)1550-1556.

Vaishali S. Kamble and Dr. Vasrsha D. Jadhav. Traditional leaf vegetables: a future herbal medicine, International Journal of Agricultural and food Science, (2013),3(2),pp56-58.

Rai M, Jagdish S, and Pandey A.K., Vegetables, A source of nutritional security, Indian Horticulture, (2004) 48(4), pp14-17.

Tamilselvan N et al., Pharmacognosy of Coccinia grandis: A Review. Asian Pacific Journal of Tropical Biomedicine, (2011) 1 (1) pp.299-302.

Raghavendra Naik, Sneha D. Borkar, Sulochana Bhat, Rabinarayan Acharya, Therapeutic potential of wild edible vegetables- A Review. Journal of Ayurveda and Integrated Medical Science, (2017) Vol. 02, issue 6, pp.85-97.

Rakesh K Sindhu & Vishal Puri, Phytochemical, Nutritional and Pharmacological evidences for Abelmoschus esculentus.(L). The Journal of Phytopharmacology, (2016) 5(6) pp.238-241.

S.Bcukeria, K Kadi, R. Kalleb, A. Benbott, D. Bendjedous, A. Yahia., Phytochemical and physiochemical Characterization of Allium sativum and Allium cepa L. essential oil. J Mater Environ Sci, (2016) 7 (7) 2016 2362-2368.

M.A. Iyengar, Susan Soans, Girija Rao and S.G.K. Nayak, Studies on some Umbelliferous herbs. Acient Science of Life, (1997) Vol.17 (1) pp.47-51.

Rabiu Nasir, Haruna Saeed Alhassan, Ahmed Abubakar & Yusuf Ibrahim, Phytochemical analysis and Antimicrobial activity of leave extract of Amarenthus spinosus. Communication in Physical Science, (2020) 5(1).pp 42-45.

Shrivastava S, Verma D, Shrivastava A, Tiwari S, Dixit B, Phytochemical and Nutritional Evaluation of Amorphophallus Campanulatus (Roxb) Blume Corm. J Nutr-Food Sci. (2014) 4(3) pp-274-280

Rajasree R. S., Sibi P I, Femi Francis, Helen William, Phytochemicals of Cucurbitaceae family - A Review. International Journal of Pharmacognosy and Phytochemical Research, (2016) 8(1) pp.113-123.

Adi Ahmad, S. H. Ansari, Javed Ahamad, Kamran J Naquvi, Pharmacognostic Specification of roots of Beta vulgaris cultivated in India. Asian Journal of Biomedical and Pharmaceutical Sciences, (2013) 3(26) 5-10.

Michael A. Zeligs M.D., Diet and Estrogen Status : The Cruciferous Connection. Journal of Medicinal Food, (1998) Vol.1(2) pp.67-82.

Piman Pocasap, Natthida Weerapreeykul, Waraporn Tanthanuch,Kanjana Thumanu , Sulforaphene in Raphanus sativum L. var. caudatus A leaf increased in late bolting stage as well as anticancer activity. Asian Pacific Journal of Tropical Bio Medicine, (2017) 7(11) pp 998-1004.

Ren- You Gan, Wing Yee Lui, Harold Corke, Sword bean (Canavalia gladiate) as a source of antioxidant Phenolics. International Journal of Food Science & Technology, (2015) Vol. 51 issue 1,pp156-162.

Tomi Lois Olatunji and Anthony Jide Afolayan, Comparative Quantitative Study on Phytochemical contents and Antioxidant Activity of Capsicum annum L. and Capsicum frutescens L. The Scientific World Journal, (2019) Vol-2019 pp1-13.

Ajay Kumar Meena, Uttam S. Niranjan, A. K Yadav, Brijendra Singh, Cassia tora Linn. A review on its ethnobotany, phytochemical and Pharmacological Profile. Journal of Pharmacy Research, (2010) 3(3), pp. 557-560.

Harshal Pawar and Priscilla M.Dmello, Cassia tora Linn. An overview. International Journal of Pharmaceutical Science and Research, (2011) 2 (9) 2286-91.

Hajar Shafaei, Abolghasem Esmaeili Jafar Soleirrani Qad, Abbas Delazar and Mohaddeseh Behjati, Citrullus colocynthis as a medicinal or poisonas plant. A revised fact. Journal of Medicinal Plant Research, (2012) Vol. 6(35) pp 4922-4927.

Jagruti J Patel, Sanjeev R. Acharya Niyati S. Acharya, Clerodendrum serratum (L) Moon.A review on traditional use, phytochemistry and pharmacological activity. Journal of Ethnopharmacology, (2014) Vol.154 issue 2 pp268-285.

Pekamwar S.S., Kalyankar T.M. and Kokate S.S., Pharmacological Activities of Coccinia grandis: Review. Journal of Applied Pharmaceutical Science, (2013) Vol. 3(05) pp114-119.

Gupta, Kritika, Kumar, Ashwani Tomer Vidisha, Kumar, Vikas, Saini, Mona, Potential of Colocasia leaves in human nutrition, Review on nutritional and phytochemical properties. Journal of Food Biochemistry, (2019) 43(7) 12878- 84.

Harshal Ashok Pawar, Pritam Dinesh Choudhary and Swati Ramesh Kamal, An overview of traditionally used Herb Colocasia esculenta, as a phytomedicine Med Aromat Plants (Los Angeles) (2018) 7:317,1-7.

Adda bjarnadottir 23.01.2015, Carrots. 101: nutrition fact and health benefits. Healthline, www.healthline.com>nutrition>foods.

Krishnachandra Chunekar, Gangasahay Pandey, Bhavaprakasha Nigantu (Indian Material Medica) Varanasi, Chaukamba Bharati Academy, Haritakyadivarga,,(2015) Verse 88 p 33.

Dr. Mahesh Raju B., Dr. Harshitha K.J. and Dr. T. B. Tripathy, Know the Vegetables Before You Eat. A nutritive Review of Shaka Varga. World Journal of pharmaceutical and Medical Research, (2017) 3(10) pp112-119.

Krishnachandra Chunekar, Gangasahay Pandey, Bhavaprakasha Nigantu (Indian Material Medica) Varnasi, Chaukamba Bharati Academy, Shakhavarga (2015) Verse 104,pp684.

A. P.Deshpande, R.R Jawlgekar & Subhash Rande. Dravygun Vignyan, Proficient Publication House Pune, India, 2013.

P.V.Sharma, Dravygun Vignyan, Chaukhamba Publication, Varanasi (India).(2013)

Subha Ganguly. Indian Ayurvedic and traditional medicinal implication of indenously available plants, herb and fruits, A review Int. J. Res. Ayurved Pharm 2013 4 (4)- 623-625 http://dx.doi.org/10.7897/2277.

Vegetable nutrition fact and the health benefits of vegetables nutrition and you, www. Nutrition-and-you.com.

Ali Esmail Al-Snafi, The pharmacological importance of Benincasa hispida. A review. International Journal of Pharma Science and Research, (2013), Vol4 No.12 pp165-168.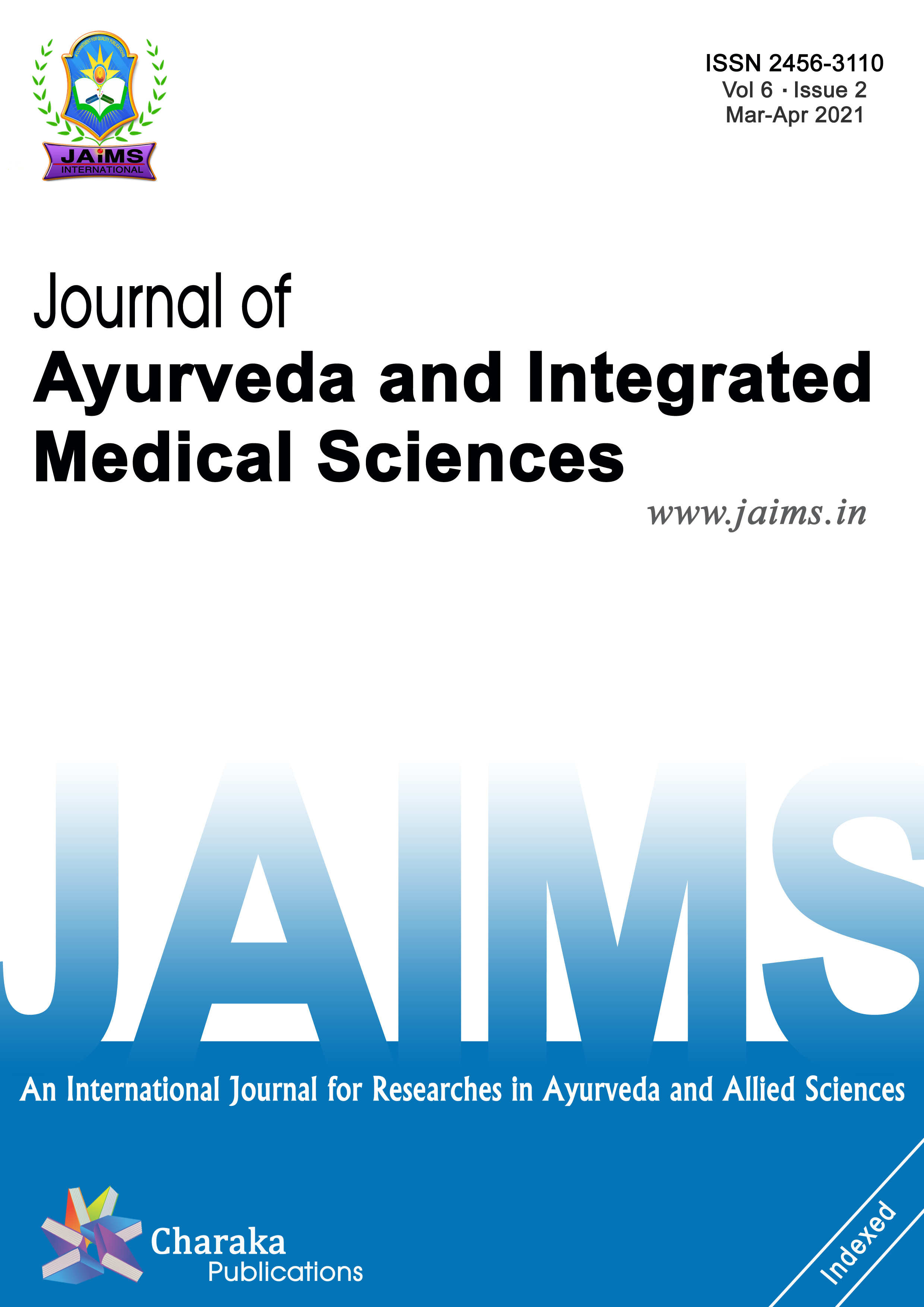 Journal of Ayurveda and Integrated Medical Sciences (JAIMS) retains the copyright of the contents of this journal but grant the readers the right to use the contents with terms and conditions under a creative common attribution licenses 4 of Attribution, Share Alike and Non-commercial type (CC BY-NC-SA) that allows copy, distribute, display, and perform the work and make derivative works based on it only for non-commercial purposes.

This work is licensed under a Creative Commons Attribution-NonCommercial-ShareAlike 4.0 International License.