The Buzz Button to your Toothache – Spilanthes acmella : A Review
Dr. Soundarya Vishwanathan

Senior Lecturer, Bangalore Institute of Dental Sciences, Bangalore, Karnataka, INDIA.

Dr. Nandan N

Reader, Bangalore Institute of Dental Sciences, Bangalore, Karnataka, INDIA.

Dr. Anitha C

Reader, Bangalore Institute of Dental Sciences, Bangalore, Karnataka, INDIA.

Dr. Manjushree R

Senior Lecturer, Bangalore Institute of Dental Sciences, Bangalore, Karnataka, INDIA.

Dr. Sunil Raj N

Professor and Head, Bangalore Institute of Dental Sciences, Bangalore, Karnataka, INDIA.
Keywords:
Anti - toothache plant, Dentistry, medicinal plants, Spilanthes acmella
Abstract
Spilanthes acmella, commonly known as toothache plant, is an important medicinal plant belonging to family Asteraceae. It has been reported to possess various biological activities like anti-pyretic, antidiuretic, anti-inflammatory, anti-oxidant, immunomodulatory, hepatoprotective, anticancer and antitoothache etc. The bioactive chemical component is spilanthol, an alkamide which is present in roots and all aerial parts of the plant. Spilanthol has high industrial demand for its use in pharmaceutical, cosmetic and toothpaste industry. S.acmella is quickly getting depleted from its natural habitat, because of its wider applications for commercial use.
References
Vinod A, Nandan N, Raj N S, Vishwanathan S. Turmeric - The Serendipitous Herb : A Review. J Ayurveda Integr Med Sci. 2018;3(6):114–24.

Arif M, Juyal D, Joshi A. A review on pharmacognostic and phytochemical study of a plant Spilanthes acmella Murr. 2017;6(5):172–7.

Dubey S, Maity S, Singh M, Saraf SA, Saha S. Phytochemistry, Pharmacology and Toxicology of Spilanthes acmella : A Review. Adv Pharmacol Sci. 2013;2013.

Rani AS, Sana H, Sulakshana G, Puri ES, Keerti M. Spilanthes acmella- an important medicinal plant. Int J Minor Fruits, Med Aromat Plants. 2019;5(December):15–26.

Sharma V, Boonen J, Chauhan N, Thakur M.Spilanthes acmella ethanolic flower extract: LC-MS alkylamide profiling and its effects on sexual behavior in male rats.Phytomedicine. 2011;18(13):1161– 1169.

Ramsewak R., Erickson A., Nair M. Bioactive N-isobutylamides from the flower buds of Spilanthes acmella. Phytochemistry. 1999;51(6):729–32.

Borate P, Disale S. Studies on Antibacterial Activity of Acmella oleracea (L.) Murr. Int J Pharma Sci Heal Care. 2013;5(3):36–42.

Revathi P, Parimelazhghan T. Traditional knowledge on medicinal plants used by Irula tribe of Hasanur hills, Erode District, Tamil Nadu, India. Ethnobot Leafl. 2010;14:136–60.

Vijendra N, Kumar K.Traditional knowledge on ethnomedicinal uses prevailing in tribal pockets of Chhindwara and Betul Districts, Madhya Pradesh, India. African J Pharm Pharmacol. 2010;4(9):662–70.

Srinath J, Laksmi T. Therapeutic potential of Spilanthes acmella - A dental note. Int J Pharm Sci Rev Res. 2014;25(1):151–3.

Savadi R, Yadav R, Yadav N. Study on immunomodulatory activity of ethanolic extract Spilanthes acmella Murr. Leaves. Indian J Nat Prod Resour. 2010;1(2):204–7.

Wongsawatkul, O Prachayasittikul, S Isarankura-Na-Ayudhya, C Satayavivad J, Ruchirawat, S Prachayasittikul V. Vasorelaxant and antioxidant activities of Spilanthes acmella Murr. Int J Mol Sci. 2008;9:2724–44.

Memorial Sloan Kettering Cancer Center. 2021. Spilanthes Acmella. [online] Available at: [Accessed 6 January 2021]. [Internet]. Available from: https://www.mskcc.org/cancer-care/integrative-medicine/herbs/spilanthes-acmella-jambu

Yadav K, Singh N. Micropropagation of Spilanthes acmella Murr. – An Important Medicinal Plant. Nat Sci. 2010;8(9):5–11.

Jirovetz L, Buchbauer G, Wobus A, Shafi MP, Abraham GT. Essential oil analysis of Spilanthes acmella Murr. Fresh plants from Southern India. Journal of Essential Oil Research. 2005 Jul 1;17(4):429-31.

Chakraborty A, Devi BRK, Sanjebam R, Khumbong S, Thokchom IS. Priliminary studies on local anesthetic and antipyretic activities of Spilanthes acmella Murr. in experimental animals models. Indian J Pharmacol. 2010;42(5):277–9.

Noor Jahan, Razia Khatoon, Siraj Ahmad, Anwar Shahzad, Evaluation of antibacterial potential of medicinal plant Spilanthes acmella Murr and it's in vitro raised callus against resistant organisms especially those harbouring bla genes. Journal of Applied Pharmaceutical Science, 7(10), 2013, 476-481

Ratnasooriya WD, P. PKP, Samaratunga, U., Jayakody JR. Diuretic activity of Spilanthes acmella flowers in rats. J Ethnopharmacol. 2004;91:317–20.

Prachayasittikul V, Prachayasittikul S, Ruchirawat S, Prachayasittikul V. High therapeutic potential of Spilanthes acmella: A review. EXCLI J. 2013;12:291–312.

Hossan S, Agarwala B, Sarwar S, Karim M, Jahan R, Rahmatullah M. Traditional use of medicinal plants in Bangladesh to treat urinary tract infections and sexually transmitted diseases. Ethnobotany Research and Applications. 2010 Apr 7;8:061-74.

A. Biswas,M. A. Bari, M. Roy, and S. K. Bhadra.Inherited folk pharmaceutical knowledge of tribal people in the Chittagong hill tracts, Bangladesh.Indian Journal of Traditional Knowledge.2010; 9(1)77–89,.

Paulraj J, Govindarajan R, Palpu P. The Genus Spilanthes Ethnopharmacology, Phytochemistry, and Pharmacological Properties: A Review. Adv Pharmacol Sci. 2013;2013.

Chakraborty A, Devi BR., Rita S, Singh IT. Local anaesthetic effect of Spilanthes acmella in experimental animal models. Indian J Pharmacol. 2002;34:144–5.

Joseph B, George J, M.V J. The role of acemella oleracea in medicine- a review. World J Pharm Res. 2014;2(6):2781–92.

Phongpaichit, Souwalak, Sanan Subhadhirasakul, Chatchai Wattanapiromsakul. Antifungal activities of extracts from Thai medicinal plants against opportunistic fungal pathogens associated with AIDS patients. Mycoses.2005; 48(5), 2005:333-338.

Sathyaprasad S, Jose BK, Chandra H S. Antimicrobial and antifungal efficacy of Spilanthes acmella as an intracanal medicament in comparison to calcium hydroxide: An in vitro study.Indian J Dent Res 2015;26:528-532.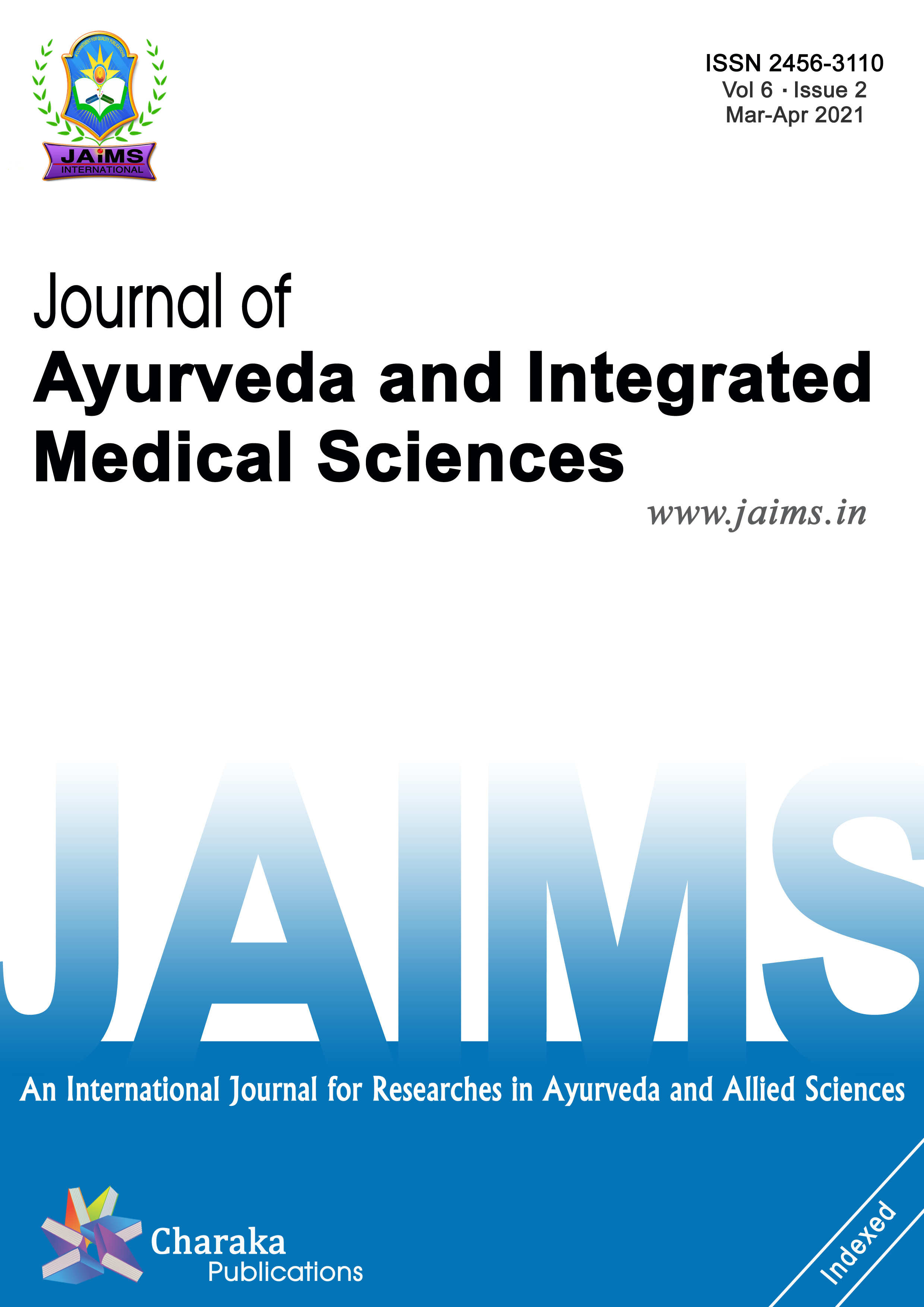 Journal of Ayurveda and Integrated Medical Sciences (JAIMS) retains the copyright of the contents of this journal but grant the readers the right to use the contents with terms and conditions under a creative common attribution licenses 4 of Attribution, Share Alike and Non-commercial type (CC BY-NC-SA) that allows copy, distribute, display, and perform the work and make derivative works based on it only for non-commercial purposes.

This work is licensed under a Creative Commons Attribution-NonCommercial-ShareAlike 4.0 International License.