Review on the disease Shwasa and its management in Ayurvedic literature
Dr. Rozy Sharma

2nd Year Post Graduate Scholar, Dept. of Kaya Chikitsa, Sri Kalabhaireshwara Swamy Ayurveda Medical College and Research Centre, Bangalore, Karnataka, INDIA.

Dr. Manjunatha Adiga

Professor, Dept. of Kaya Chikitsa, Sri Kalabhaireshwara Swamy Ayurveda Medical College and Research Centre, Bangalore, Karnataka, INDIA.
Keywords:
Shwasa, Tamaka Shwasa, Bronchial Asthma
Abstract
Tamaka Shwasa is a very broad term which includes many more diseases where dyspnoea is predominant symptom. But still we can correlate Bronchial Asthma to Tamaka Shwasa, because out of the remaining four, three are incurable and the fourth one is Kshudra Shwasa developed due excessive labour or taking excessive Ruksh Ahara and which is easily curable. In its early onset it is easily curable but in chronic cases it is difficult to treat. Respiration is the evident feature of life which is carried out by Prana Vayu. This sole sign of life is affected in this disease, Tamaka Shwasa, causing an impediment to the respiratory function. Ayurveda is the best way to effectively and safely manage the condition without inducing any drug dependency where various Shodhana procedures and use of internal medication not only detoxifies the body but also provides nutrition and increases the elasticity of lung tissue and develops natural immunity of the body.
References
Agnivesha; Caraka Samhita; with Ayurveda Dipika commentary by Chakrapanidatta; edited by Vaidya yadavji Trikamji Acharya; Chaukhamba Orientalia, Varanasi; Reprint 2015; Chikitsa Sthana 17

Sri Madhavakara; Madhava Nidana with the madhukosha Sanskrit commentary by Sri Vijayarakshita and Srikantadatta with vidyotini hindi commentary; by Sri Sudarshana sastri; edited by prof. Yadunandan upadhyaya chaukambha prakasham, Varanasi, reprint 2014, purvardha, 12

Susruta; susruta Samhita with nibandha Sangraha commentory of Sri Dalhanacharya and Nyaya Chandrika Panjika of Sri Gayadasacharya on Nidhana Sthana edited by Vaidya Jadavji Trikamji acharya and the rest by Narayanaram acharya, chaukambha orientala, Varanasi, reprint 2014, Uttara tantra 51

Bhava Mishra; Bhavaprakasha; original text along with commentary and translation Madhyama and utta khanda, volume 2 commentary by Dr. Bulusu Sitaram, chaukhama Orientalia, 2014, Madhyama khanda, chapter 14

Vangasena Samhita, Hari Hindi vyakhya sahita, edited by Pandit Hariprasad Tripati, chaukhambha Sanskrit series, office, Varanasi 1st edition reprint 2009, chapter 50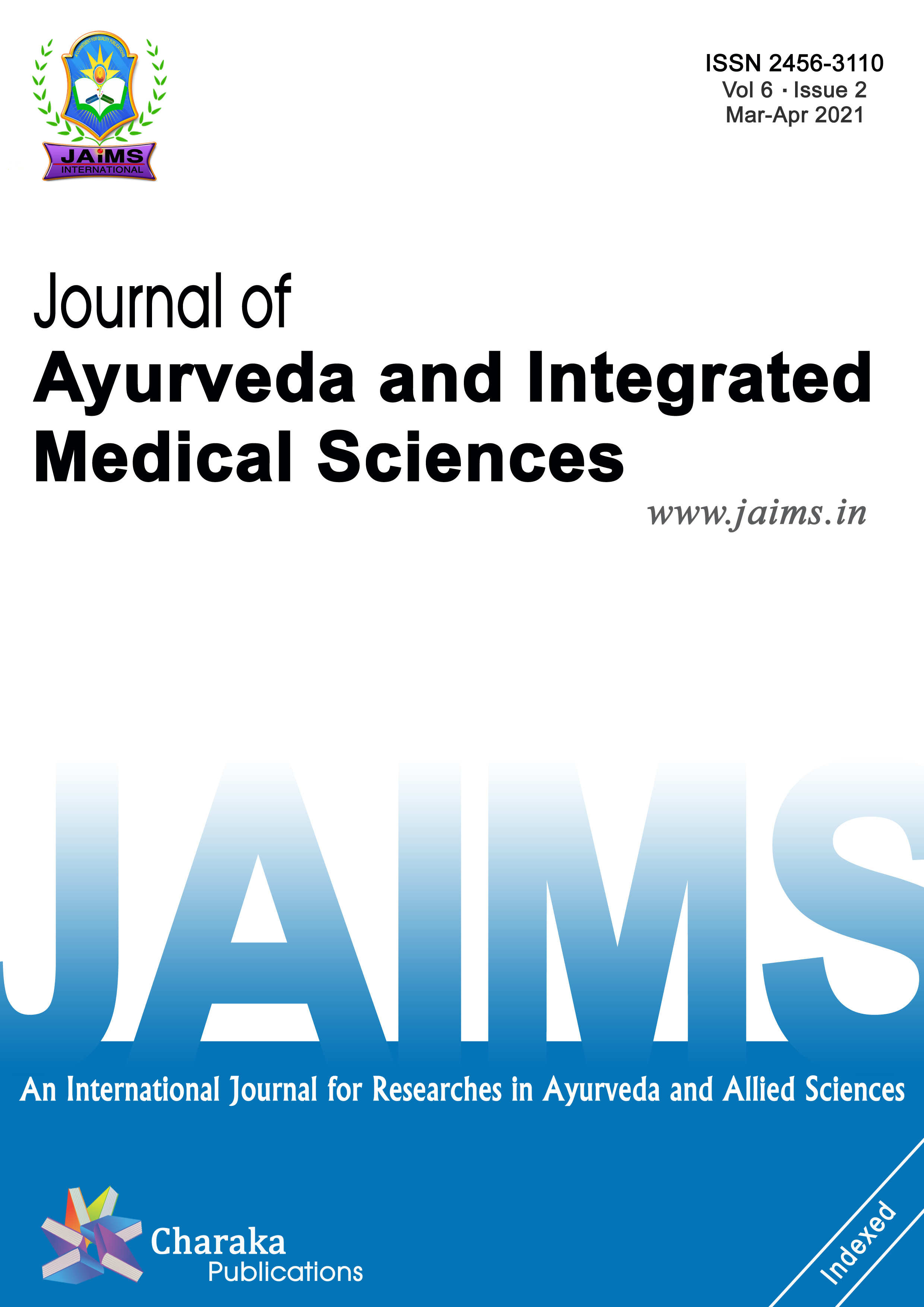 Journal of Ayurveda and Integrated Medical Sciences (JAIMS) retains the copyright of the contents of this journal but grant the readers the right to use the contents with terms and conditions under a creative common attribution licenses 4 of Attribution, Share Alike and Non-commercial type (CC BY-NC-SA) that allows copy, distribute, display, and perform the work and make derivative works based on it only for non-commercial purposes.

This work is licensed under a Creative Commons Attribution-NonCommercial-ShareAlike 4.0 International License.