A review on Rasaushadhi in Geriatrics as a Rasayana
Dr. Simi Jose

Post Graduate Scholar, Dept. of Rasa Shastra and Bhaishajya Kalpana, Ramakrishna Ayurvedic Medical College, Hospital and Research Centre, Bengaluru, Karnataka, INDIA.

Dr. Chaitra L.V.

Associate Professor, Dept. of Rasa Shastra and Bhaishajya Kalpana, Ramakrishna Ayurvedic Medical College, Hospital and Research centre, Bengaluru, Karnataka, INDIA.
Keywords:
Geriatrics, Ageing, Rasayana, Rasaushadhi
Abstract
Worldwide the elderly population is increasing and geriatrics is emerging as a challenging speciality. It is now felt necessary to develop newer strategies for geriatric healthcare. The conventional system of medicine focusing more in the area of management of diseases of old age. Ayurveda has broad spectrum of preventive measures for combating the ageing process. Rasayana Tantra is a branch of Ayurveda, exclusively devotes to Jarajanya Vyadhi. Rasaushadhis are being the backbone of Ayurveda due to its Rasayana and therapeutic properties. Here is an attempt is made to discuss Rasayana property of Rasaushadhis in geriatrics.
References
WHO, The Global Embrace, Ageing and Life Coures, World Health Organization (Geneva) 2001.

Dr. Sidhinandan Mishra, A text book of Ayurvedic Rasa Shastra. Chaukhambha Orientalia Varanasi, Reprint 2007;p.12

Dr.Ramachandra Reddy. Text book of Rasashastra, Chaukhambha Sanskrit Bhawan, Varanasi, Second Edition 2010;p.22

Shastri Pd. Kashinath, Rasa tarangini of Sadanand Sharma, Motilalbanarasi Publication. Delhi.2nd Edition 2012;p.99-114

Srivastava Shailaja edited Sharangadhara Samhita of Jivanprada Commentary. Chaukhambha Orientalia, Varanasi, Reprint edition, Purvakhanda,2009,6(19):54

Acharya Shukla Vidhyadhar, Prof. Tripathi Ravi Datta. Charaka Samhita. Chaukhambha Sanskrit Pratishtan Delhi.2006;p.280

Singh R.H, The holistic Principles of Ayurvedic Medicine, Chaukhambha Sanskrit Pratishtan. Delhi. Reprint Edition 2003;14:205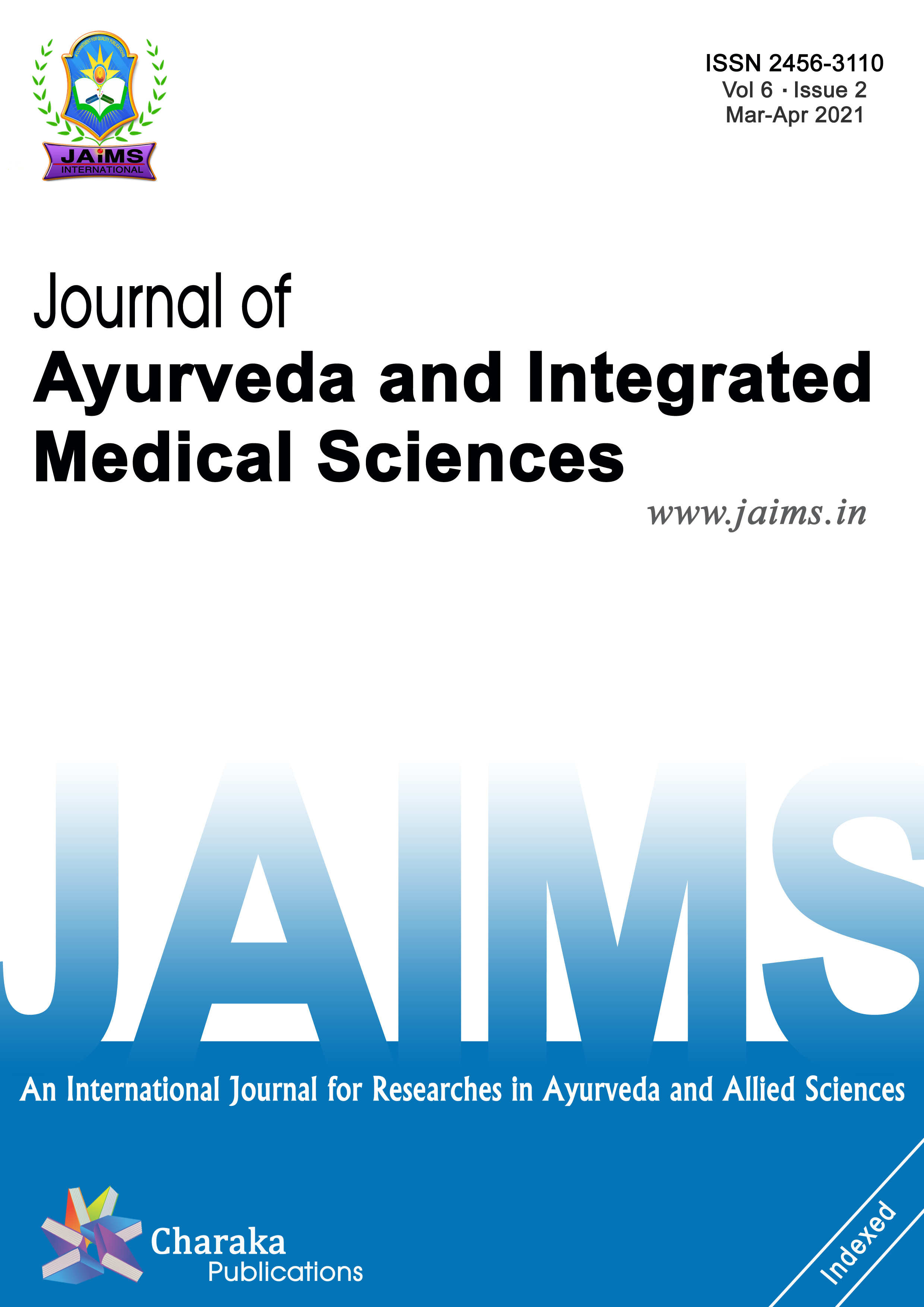 Journal of Ayurveda and Integrated Medical Sciences (JAIMS) retains the copyright of the contents of this journal but grant the readers the right to use the contents with terms and conditions under a creative common attribution licenses 4 of Attribution, Share Alike and Non-commercial type (CC BY-NC-SA) that allows copy, distribute, display, and perform the work and make derivative works based on it only for non-commercial purposes.

This work is licensed under a Creative Commons Attribution-NonCommercial-ShareAlike 4.0 International License.