Ayurvedic management of a patient with Hypoxia and Co-Morbidities by Home Care through Telehealth in 2nd wave of COVID-19 - Case Report
Dr. Ashok Kumar Panda

Research Officer, Central Ayurveda Research Institute, Sum Hospital Road, Bharatpur, Bhubaneswar, INDIA.
Keywords:
AYUSH-64, Siddha Makardwaja Rasa, Swasa Kasa Chintamoni Rasa, COVID-19, Hypoxia, Oxygen therapy, Home Care, Case Study
Abstract
Ayurvedic herbal combinations like Kasaya, Churna and Vati are very useful even in the moderate to severe patients with oxygen support. It was reported that Ayurveda medication can prevent further progression of inflammatory phase (cytokine storm) and prothrombic phase (Organ failure) of Covid- 19 infection. Rasa Rasayana are thought to be more potent and quicker in action as compared to Ayurvedic herbal combination in Jvara Chikitsa (Fever) and are potent Immuno boosters also. A 42 years male consulted an Ayurvedic Physician with breathing difficulties and redness of eyes and face. His SPO2 was 85%and HRCT of thorax's severity score was 14/25 with Diabetes and Hypertension as pre-existing co-morbidities. The patient had received Ayush-64, Siddha Makardwaja, Swasa Kasa Chintamani Rasa for the first three days of treatment along with oxygen therapy after that Dasamoola Haritaki was added. The patient showed clinical improvement within a day of administration of Ayurvedic medicines and felt good. His cough and breathing difficulties have substantially reduced and his SPO2 became stable between 94 and 96% in two days. This case report highlights the clinical success story as a result of administration of Ayurvedic Rasa-Rasayana and herbal combination in early Inflammatory phase of COVID-19 infection without the use of synthetic steroid and reducing the oxygen requirement needed for home care set up through telehealth service. It may sensitize the reader for early detection and management of similar or identical cases.
References
Yamini Aiyar entitled, India's Resurgence of COVID-19: urgent action needed, The Lancet, May 2021,DOI:https://doi.org/10.1016/S0140-6736(21)01202-2

Sv P, Lathabhavan R, Ittamalla R. What concerns Indian general public on second wave of COVID-19? A report on social media opinions [published online ahead of print, 2021 Apr 14]. Diabetes Metab Syndr. 2021;15(3):829-830. doi:10.1016/j.dsx.2021.04.001

Moorthy A, Gaikwad R, Krishna S, et al. SARS-CoV-2, Uncontrolled Diabetes and Corticosteroids-An Unholy Trinity in Invasive Fungal Infections of the Maxillofacial Region? A Retrospective, Multi-centric Analysis [published online ahead of print, 2021 Mar 6]. J Maxillofac Oral Surg. 2021;1-8. doi:10.1007/s12663-021-01532-1

Balagi Potbhare & R Gopinda Reddy, Therapeutic potential of AYUSH-64 in COVID-19 : An Ayurvedic prospective, April-June NJ RAS, 9(2) https://doi.org/10.52482/ayurlog.v9i02.829

Joshi JA, Puthiyedath R. Outcomes of Ayurvedic care in a COVID-19 patient with hypoxia - A Case Report [published online ahead of print, 2020 Oct 13]. J Ayurveda Integr Med. 2020;10.1016/j.jaim.2020.10.006. doi:10.1016/j.jaim.2020.10.006

Chauvan Divya, Arora Palak, Choudary Shruti, Mitiating Covid -19 with Ayurvda Rasa sastra. May 2020, World J Phar. Res;9(2):603-11.

Panda AK, Kar Sarbeswar. Ayurvedic Immuno-Booster: Is it myth or Reality in COVID-19 pandemic, Jan 2021, Int J Cur Res.& Rev;13(1):134-140

Chu DK, Kim LH, Young PJ, et al. Mortality and morbidity in acutely ill adults treated with liberal versus conservative oxygen therapy (IOTA): a systematic review and meta-analysis. Lancet. 2018;391(10131):1693-1705. Available at: https://www.ncbi.nlm.nih.gov/pubmed/29726345

Ñamendys-Silva SA. Respiratory support for patients with COVID-19 infection. The Lancet Respiratory Medicine. 2020 Mar 5.

Osakwe, Zainab Toteh PhD, MSN, NP Home Care and Use of Telehealth Amidst the COVID-19 Pandemic, Home Healthcare Now: July/August 2020 - Volume 38 - Issue 4 - p 229-230 doi: 10.1097/NHH.0000000000000900

Messerole E, Peine P, Wittkopp S, Marini JJ, Albert RK. The pragmatics of prone positioning to increase oxygen concentrations in Covid-19 infection. American journal of respiratory and critical care medicine. 2002 May 15;165(10):1359-63

Thimmulappa R. K., Mudnakudu-Nagaraju K. K., Shivamallu C., Subramaniam K. J. T., Radhakrishnan A., Bhojraj S., et al. (2021). Antiviral and Immunomodulatory Activity of Curcumin: A Case for Prophylactic Therapy for COVID-19. Heliyon 7, e06350. 10.1016/j

Valizadeh H., Abdolmohammadi-vahid S., Danshina S., Ziya Gencer M., Ammari A., Sadeghi A., et al. (2020). Nano-curcumin Therapy, a Promising Method in Modulating Inflammatory Cytokines in COVID-19 Patients. Int. Immunopharmacology 89, 107088. 10.1016/j

Rattis BAC, Ramos SG, Celes MRN. Curcumin as a Potential Treatment for COVID-19. Front Pharmacol. 2021;12:675287. Published 2021 May 7. doi:10.3389/fphar.2021.675287

Kumar G, Srivastava A, Sharma SK, Gupta YK. Safety evaluation of mercury based Ayurvedic formulation (Sidha Makardhwaja) on brain cerebrum, liver & kidney in rats. Indian J Med Res. 2014;139(4):610-618.

Kumar Y, Singh BM, Gupta P. Clinical and metabolic markers based study of Swas Kasa Chintamani Rasa (An Ayurvedic herbo-metallic preparation) in childhood bronchial asthma (Tamak Swas). Int J Green Pharm 2014;8:37-44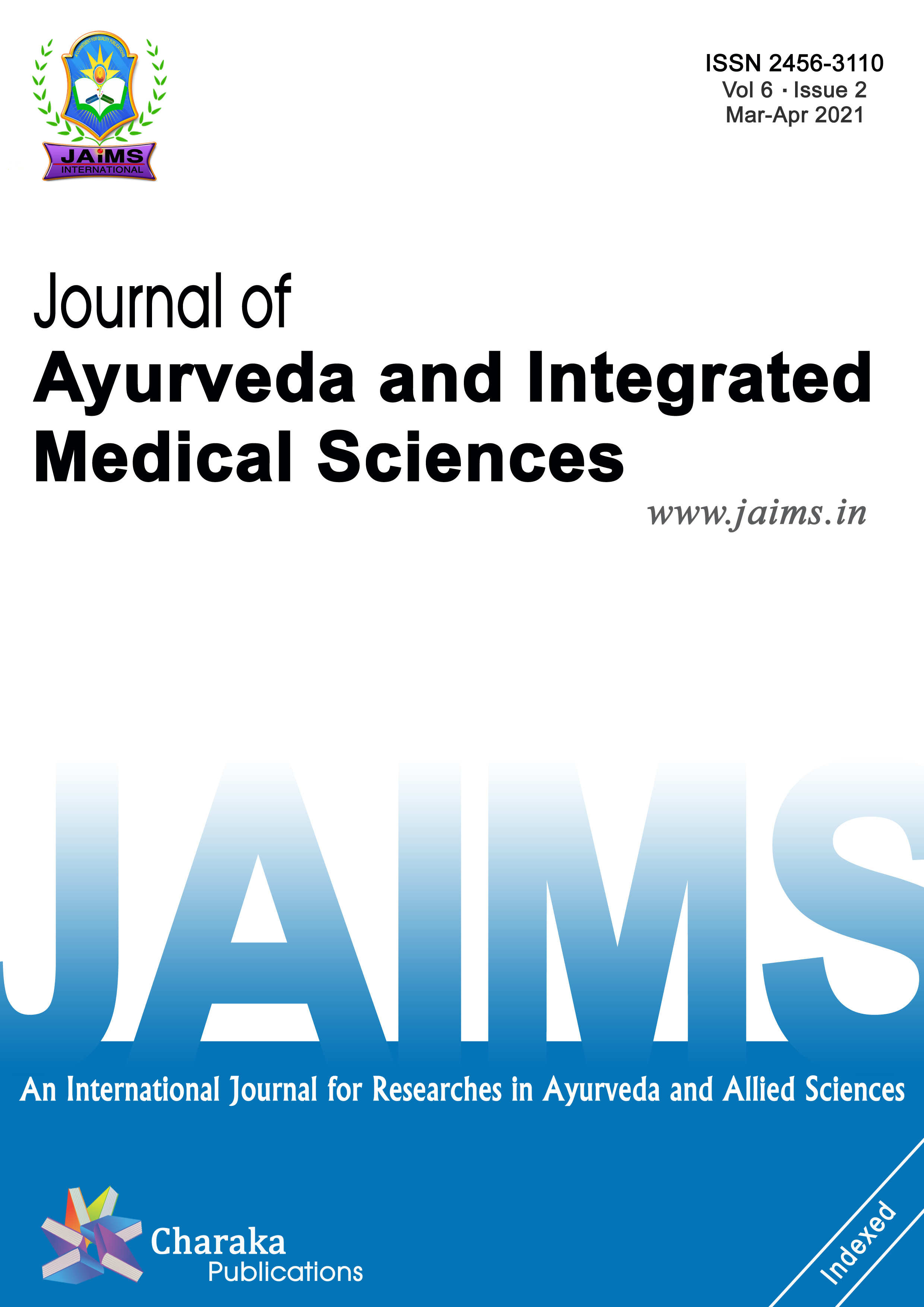 Journal of Ayurveda and Integrated Medical Sciences (JAIMS) retains the copyright of the contents of this journal but grant the readers the right to use the contents with terms and conditions under a creative common attribution licenses 4 of Attribution, Share Alike and Non-commercial type (CC BY-NC-SA) that allows copy, distribute, display, and perform the work and make derivative works based on it only for non-commercial purposes.

This work is licensed under a Creative Commons Attribution-NonCommercial-ShareAlike 4.0 International License.