Management of Hemangioma with Ksharasutra - A Case Study
Dr. Prerana S. Bandekar

Assistant Professor, Department of Shalya Tantra, Dr. J. J. Magdum Ayurvedic Medical College, Jaysingpur, Maharashtra, INDIA.
Keywords:
Granthi, Hemangioma, Jatyadi Taila, Ksharasutra, Ropana, Shodhana, Case Study
Abstract
It is benign vascular endothelial tumor, common in girls (3:1). In Ayurveda Hemangioma can be compared with Raktaja Granthi. The diagnosis is based on clinical examination and usually straight forward by visual inspection. The treatment of Hemangioma has to be done with endurance and careful selection of procedure according to the type and site of the disease; otherwise, it may lead to cosmetic derangement or recurrence of the ailment regarding the management of this disease, different types of treatment procedures are explained in contemporary science. In Ayurveda also, various treatment principles explained like administration of drugs internally, external application of drugs and parasurgical procedures [i.e., Raktamokshana (bloodletting), Ksharakarma (chemical cauterization), Ksharasutra (medicated thread ligation) and Agnikarma (thermal cauterization)]. These indigenous treatment methods are minimal invasive procedures which do not cause the scar formation, no recurrence and found to be more beneficial in the treatment of Hemangioma. This case study will reveal the management of hemangioma through Ksharasutra along with internal medications. A female patient of age 24-year complaints of small swelling on left breast. Patient was diagnosed case of hemangioma. After required investigations and local examination of swelling, patient was planned and treated with (Ksharasutra, Jatyadi Taila) Ayurvedic formulations as described in texts of Ayurveda.
References
PV Sharma. Sushruta Samhita, Sutrasthana; volume 1st, reprint. Ch.11 ver.3, Varanasi: Choukhambha Sanskrit Samsthan; 2018;p.113

Somen das, A Concise Textbook of Surgery, 3rd edition, Dr Somen Das, Kolkata, Chapter 10, 2011;p.94.

PV Sharma. Sushruta Samhita, Chikitsasthana; volume 2nd, reprint edition. Ch.17 ver.29-33, Varanasi: Choukhambha Sanskrit Samsthan; 2018;p.430.

Late Pt. Khooba Chand Sharma, Sharangdhar Samhita, Reprint, Khanda 1, Lucknow: Tej Kumar Book Depot Pvt. Ltd, 2014;p.175-177

Dr. Bramhananda Tripathi (ed.), Ashtanga Hridaya of Srimada Vagbhata, Reprint, Uttarsthana, Nirmala Hindi Commentary, Delhi: Choukhambha Sanskrit Pratishthan, 2015;p.1099

PV Sharma. Sushruta Samhita, Chikitsasthana; volume 2nd, reprint edition, Ch.1, Ver.9, Varanasi: Choukhambha Sanskrit Samsthana, 2018;p.250.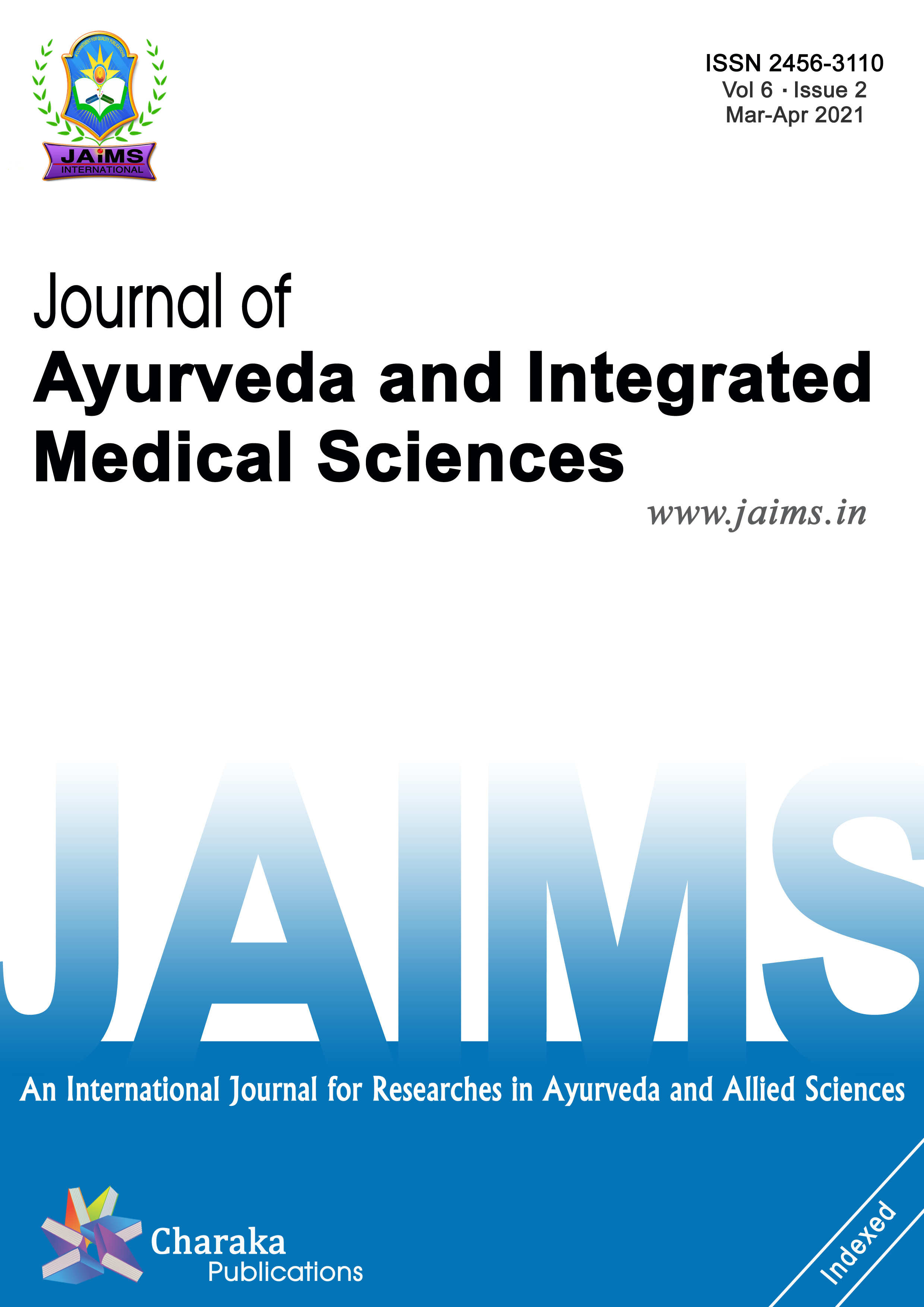 Journal of Ayurveda and Integrated Medical Sciences (JAIMS) retains the copyright of the contents of this journal but grant the readers the right to use the contents with terms and conditions under a creative common attribution licenses 4 of Attribution, Share Alike and Non-commercial type (CC BY-NC-SA) that allows copy, distribute, display, and perform the work and make derivative works based on it only for non-commercial purposes.

This work is licensed under a Creative Commons Attribution-NonCommercial-ShareAlike 4.0 International License.