Therapeutic potential of wild edible vegetables - A Review
Dr. Ragahvendra Naik

Research Officer, Regional Ayurveda Research Institute for Metabolic Disorders, GCP Annexe, Near Ashoka Pillar, Jayanagar, Bengaluru, Karnataka, India.

Sneha D. Borkar

Ayurvedic Physician, Primary Health Centre, Betki, North Goa, Institute for Post Graduate Teaching and Research in Ayurveda, Jamnagar, Gujarat, India.

Sulochana Bhat

Research Officer (S3), Regional Ayurveda Research Institute for Metabolic Disorders, Jayanagar, Bengaluru, india.

Rabinarayan Acharya

Professor & Head, Department of Dravyaguna, Institute for Post Graduate Teaching and Research in Ayurveda, Jamnagar, Gujarat, India.
Keywords:
Diet, Dietary Supplements, Nutraceuticals, Wild Vegetables
Abstract
Wild edible plants play an important role in the livelihood of people residing in rural areas. Even today in most of the remote areas, people depend on plants which are available in their natural surroundings for food, medicine, shelter etc. Majority of wild edible vegetables have medicinal property and can be used to treat common ailments. The present paper focuses on ethno-medicinal properties of some non-cultivated, traditional vegetables from published research articles, books and web based search engines. On the basis of available ethno-botanical information through published literature studies, it is observed that one or the other part of wild vegetables belonging to about 97 species of 48 families are used as medicine apart from their nutritional benefits. About 43 species of leaves, 14 species of rhizome/tuber, 11 species of fruits, 9 species of shoot/stem, and 7 species of flowers are used for food as well as medicinal purposes. Total 66 among these are used internally, 21 are used externally and 14 are being used for both internal and external administration. About 52 different disease conditions like diabetes, rheumatism, dysentery, dyspepsia, gastritis, constipation, urinary disorders are frequently treated by these wild vegetables. These are easily available in natural habitat, cheap and excellent source of nutrients like proteins, carbohydrates, iron, essential minerals and other secondary metabolites. Regular use of these vegetables may indirectly act as an alternative source of medicinal drugs along with nutritional benefits. Further, they can be analyzed for their bioactive constituents and introduced as diet in routine clinical practice.
Downloads
Download data is not yet available.
References
Jadhav V. D., Mahadkar S. D. and Valvi S. R. Documentation and ethnobotanical survey of wild edible plants from Kolhapur district, Recent Research in Science and Technology 2011, 3(12): 58-63.
Aryal MP, Berg A, Ogle B. Uncultivated plants and livelihood support-A case study from the Chepang people of Nepal. Ethnobot Res Appl2009; 7: 409-422
Narzary,H., Brahma,S. and Basumatary, S. ; Wild Edible Vegetables Consumed by Bodo Tribe of Kokrajhar District (Assam), North-East India. Asian J. Plant Sci. Res., 2013, 3(6):95-100.
Vaishali S. Kamble and Dr.Varsha D. Jadhav, Traditional Leafy Vegetables: A Future Herbal Medicine, International Journal of Agricultural and Food Science 2013, 3(2): 56-58
Rai M; Jagdish S. and Pandey A. K. Vegetables: A sourc of nutritional security, IndianHorticulture. 48(4): 14- 17(2004)
Misra S; Maikhuri R. K; Kala C; Rao K. and Saxena K. G. Wild leafy vegetables: A study oftheir subsistence dietetic support to the inhabitants of Nanda Devi Biosphere Reserve, India.Journal of Ethno biology and ethno medicine.4: 16 (2008)
Uprety Y; Poudel R. C; Shrestha K. K; Rajbhandary S; Tiwari N. N; Shrestha U. B. andAsselin H. Diversity of use and local knowledge of wild edible plant resources in Nepal, J.ofEthno. &Ethnomedi. 8(16): 1-16 (2012)
Mahadkar s.d., jadhav varsha, traditional uses of some wild edible plants from kolhapur district, volume5(2013) page no. 19 to 26
K Jeyaprakash, M Ayyanar, KN Geetha, T Sekar, Traditional uses of medicinal plants among the tribal people in Theni District (Western Ghats), Southern India, Asian Pacific Journal of Tropical Biomedicine (2011)S20-S25
Dr. Anu Shrivastava, Dr.Shikha Roy, Cucurbitaceae: A Ethnomedicinally Important Vegetable Family, Journal of Medicinal Plants Studies Year: 2013, Volume: 1, Issue: 4 page: 16 – 20
Jiji P, Ethnomedicinal Uses of wild vegetables used by Tai-Shyam People of Sivasagar District, Assam, India, International Research Journal of Biological Sciences Vol. 3(11), 63-65, November (2014)
S. Muhammad, M. A. Shinkafi, Ethnobotanical survey of some medicinal important leafy vegetables in North Western Nigeria, Journal of Medicinal Plants Research, Vol. 8(1), pp. 6-8, 3 January, 2014
Prashanth Kumar, G M, N Shiddamallayya, Documentation of Wild Leafy Vegetables of Hassan District, Karnataka, International Journal of Pure & Applied Bioscience, 2 (1): 202-208 (2014)
Bipul Saikia, P. Rethy, P. R. Gajurel & Bhabajit Doley, Exotic wild edible plants of Sonitpur District, Assam, J. B io s c i. Re s ., 2012.Vol.3(1):71-75
Bhogaonkar Prabha Y, Vishal R. Marathe and Prachi P. Kshirsagar Documentation of Wild Edible Plants of Melghat Forest, Dist. Amravati, Maharashtra State, India, Ethnobotanical Leaflets 14: 751-58, 2010.
K Yeshodharan, K A Sujana, Wild Edible plants traditionally used by the tribes in the Parambikulan Wildlife Sanctuary, Kerala, India. Natural Product Radiance, Vol 6 (1), 2007, pp. 74-80
B Mallesh Reddy, wild edible plants of Chandrapur district, Maharastra India, Indian Journal of natural product and Resources Vol 3(1), March 2012, pp. 110- 117
Dhore M.M., Lachure P.S., Bharsakale D.B., Dabhadkar D.K, Exploration Of Some Wild Edible Plants Of Digras Tahsil, Dist. -Yavatmal, Maharashtra, India. International Journal of Scientific and Research Publications, Volume 2, Issue 5, May 2012
A H Rajasab, Mahamad Isaq, Documentation of Folk knowledge on Wild edible plants of North Karnataka, Indian Journal Of Traditional Knowledge, Volume3(4), October 2004, pp. 419-429
S Saharia and CM Sarma, Ethno-medicinal studies on indigenous wetland plants in the tea garden tribes of Darrang and Udalguri district, Assam, India, NeBIO (2011) Vol. 2(1)
Jasmine T S, Solomonnadar Jeeva, Febreena Grace Lyndem, Bhanuprakash Mishra, R C Laloo, Wild Edible plants of Meghalaya, North East India. Natural Product Radiance, Vol 6 (5), 2007, pp. 410-426
Rekha Sinha, Valeria Lakra, (2005), Wild tribal food plants of Orissa, Indian journal of traditional knowledge, Vol. 4(3), pp. 246–252.
K N Reddy, Chiranjibi Pattanaik, C S Reddy, V S Raju, Traditional knowledge on wild food plants in Andhrapradesh, Indian knowledge of Traditional Knowledge, Vol. 6 (1), January 2007, pp. 223-229
K Raveendraretnam, P Martin, Ethnomedicinal plants, Published by Agrobios, India, 1st edition 2006.
SK Varma, D K Srivastava, A K Pandey, Ethnobotany of Santhal Pargana, Narendra publishing house, 1st edition 1999.
S K Jain, B K Sinha, R C Gupta, Notable plants in Ethnomedicine of India, Deep publications Newdelhi, 1st edition 1991
P C Triwedi, Medicinal plants, Ethnobotanical approach, Agrobios, India, !st Edition 2000. 28. Ghorbani A, Langenberger G, Sauerborn J: A comparison of the wild food plant use knowledge of ethnic minorities in Naban River Watershed National Nature Reserve, Yunnan, SW China. J Ethnobiol Ethnomed. 2012, 8: 17-10.1186/1746-4269-8-17.
Termote C, Van Damme P, Dhed'a Djailo B: Eating from the wild: Turumbu, Mbole and Bali traditional knowledge on non-cultivated edible plants, District Tshopo, DR Congo. Genet Resour Crop Evol. 2011, 58: 585-618.
Keller GB, Mndiga H, Maass BL: Diversity and genetic erosion of traditional vegetables in Tanzania from the farmer's point of view. Plant Genet Resour Charact Util. 2005, 3: 400-413.
Shrestha PM, Dhillion SS: Diversity and traditional knowledge concerning wild food species in a locally managed forest in Nepal. Agroforest Syst. 2006, 66: 55- 63.
Pieroni A, Nebel S, Santoro RF, Heinrich M. Food for two seasons: Culinary uses of non-cultivated local vegetables and mushrooms in a south Italian village. Int J Food Sci Nutr. 2005;56:245–272.
Hadjichambis et al., Wild and semi-domesticated food plant consumption in seven circum-Mediterranean areas. International Journal of Food Sciences and Nutrition. 2007; 9:1–32.
Etkin N. Eating on the Wild Site The Pharmacologic, Ecologic and Social Implications of Using Noncultigens. Tucson, AZ: University of Arizona Press; 1994.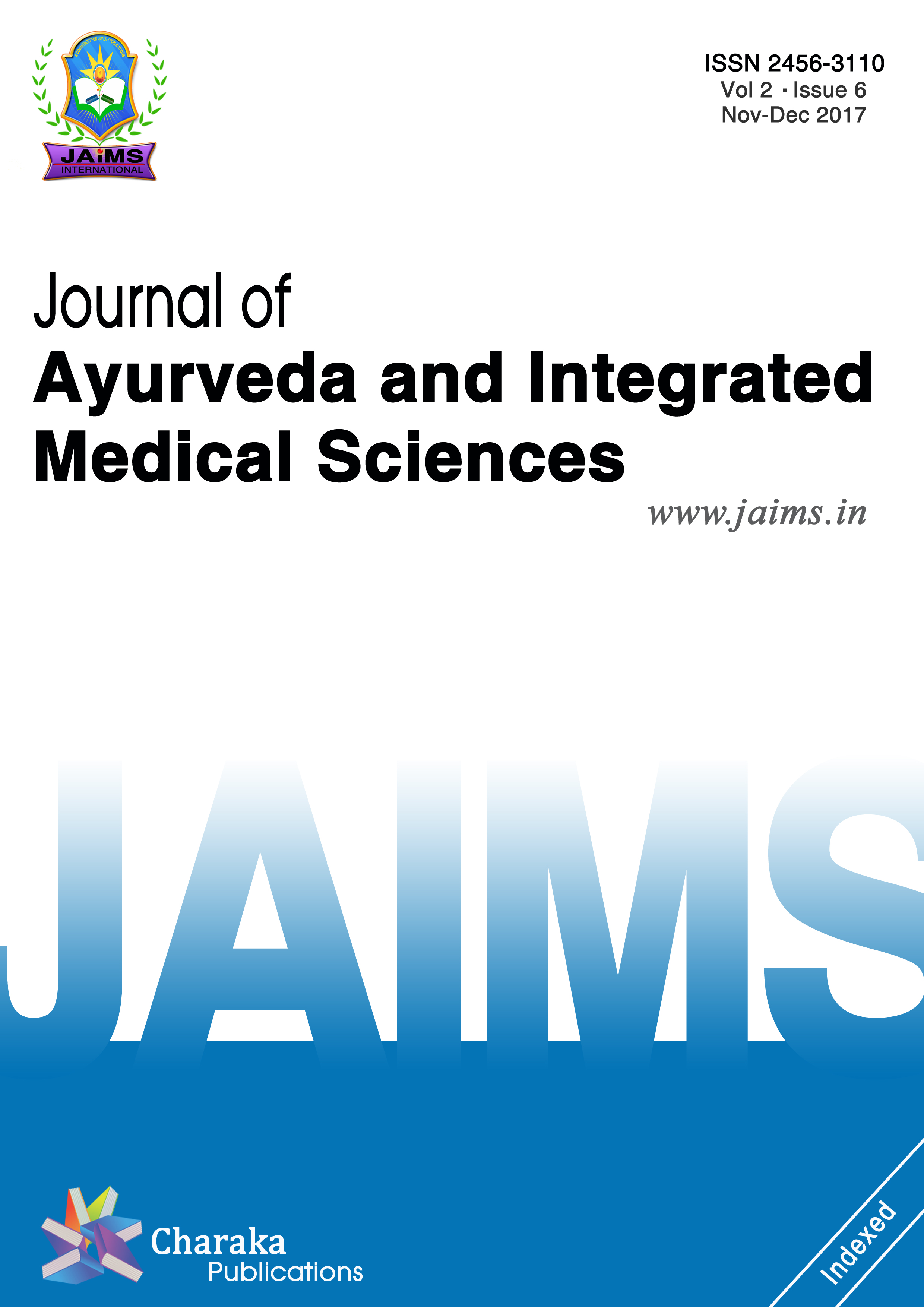 How to Cite
Dr. Ragahvendra Naik, Sneha D. Borkar, Sulochana Bhat, & Rabinarayan Acharya. (2017). Therapeutic potential of wild edible vegetables - A Review. Journal of Ayurveda and Integrated Medical Sciences, 2(06), 85-97. Retrieved from https://jaims.in/jaims/article/view/345
Journal of Ayurveda and Integrated Medical Sciences (JAIMS) retains the copyright of the contents of this journal but grant the readers the right to use the contents with terms and conditions under a creative common attribution licenses 4 of Attribution, Share Alike and Non-commercial type (CC BY-NC-SA) that allows copy, distribute, display, and perform the work and make derivative works based on it only for non-commercial purposes.

This work is licensed under a Creative Commons Attribution-NonCommercial-ShareAlike 4.0 International License.