STAY HEALTHY THIS MONSOON WITH AYURVEDIC LIFESTYLE MODIFICATIONS
Umapati C. Baragi

Associate Professor & Head, Dept. of Basic Principles, Faculty of Ayurved (Main Campus), Uttarakhand Ayurved University, Dehradun, Uttarakhand, INDIA.

Jyoti M. Ganer

Assistant Professor, Dept. of Agada Tantra, Uttaranchal Ayurved College, Dehradun, Uttarakhand, INDIA.

Pramod C. Baragi

Professor, Department of Rasashastra & Bhaishajya Kalpana, BLDEA'S AVS Ayurveda Mahavidyalaya Hospital & Research Centre, Vijayapur, Karnataka, INDIA.
Abstract
Ritucharya is the term for the dietary and lifestyle regimens that are based on Earth's seasons. The belief is that illness can be prevented if diet and lifestyle reflect the changes in weather conditions. Ritucharya is the ancient Ayurvedic practice and is comprised of two words, "Ritu" which means season and "Charya" which means regimen or discipline. Ritucharya consists of lifestyle and Ayurvedic diet routine to cope with the bodily and mental impacts caused by seasonal changes as recommended by Ayurveda. Varsha Rutu (Monsoon) brings about vivid changes not only in the nature but also in the body. Our body is more susceptible to health issues during rainy season, because monsoon reduces the digestive fire in our body. Our body constantly gets affected with indigestion problems, viral fever, malaise etc. so we must keep our body resistant against such diseases. Hence this review article discusses the lifestyle modifications needed to preserve then body from diseases originating in Varsha Rutu.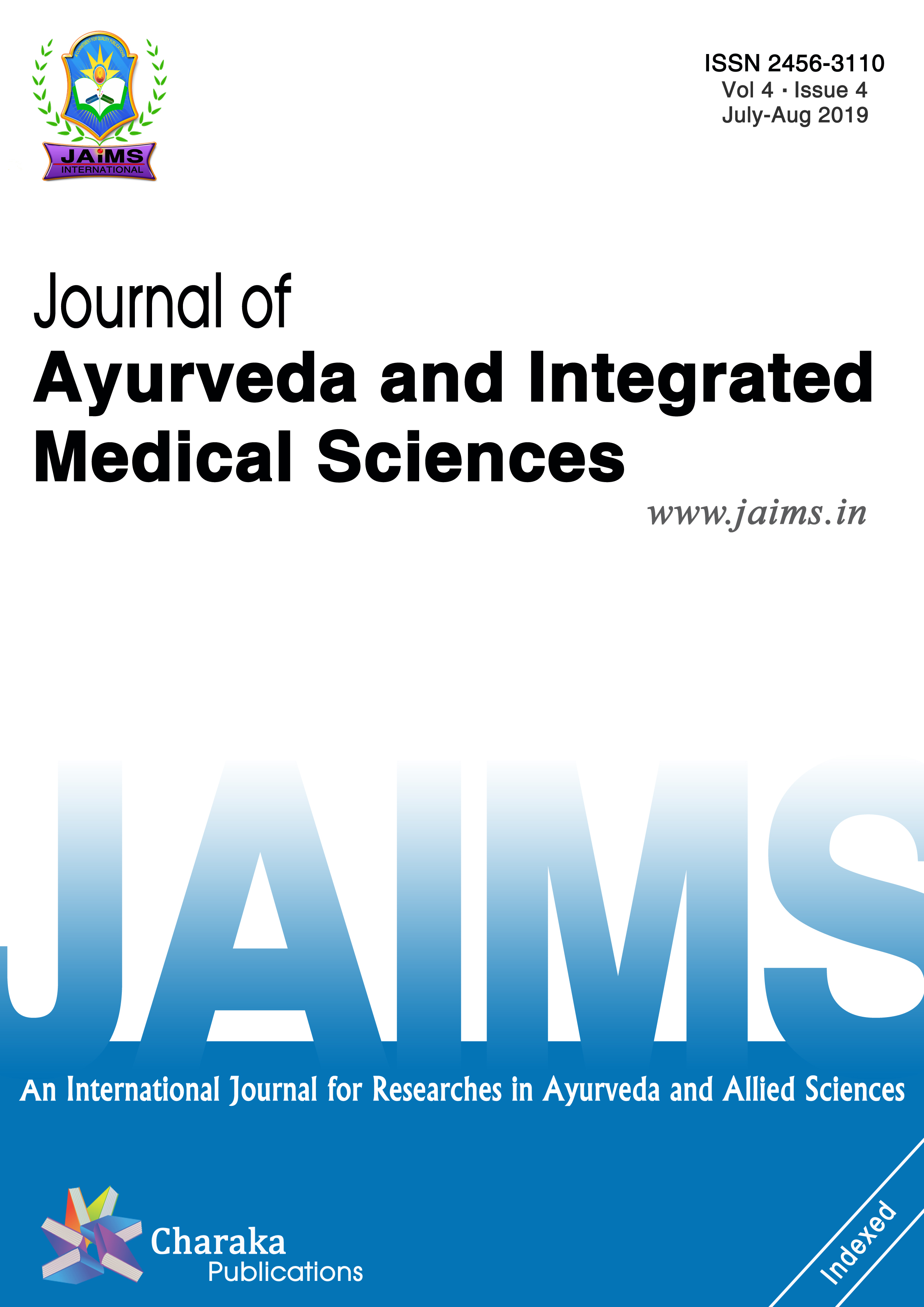 How to Cite
BARAGI, Umapati C.; GANER, Jyoti M.; BARAGI, Pramod C.. STAY HEALTHY THIS MONSOON WITH AYURVEDIC LIFESTYLE MODIFICATIONS.
Journal of Ayurveda and Integrated Medical Sciences (ISSN 2456-3110)
, http://www.jaims.in/index.php/jaims/pages/view/Citation, v. 4, n. 1, p. 98 - 101, mar. 2019. ISSN 2456-3110. Available at: <
https://jaims.in/index.php/jaims/article/view/777
>. Date accessed: 25 apr. 2019. doi:
https://doi.org/10.21760/jaims.4.1.20
.
This work is licensed under a Creative Commons Attribution-NonCommercial-NoDerivatives 4.0 International License.