A scientific review on Sadaphuli in Ayurveda
Dr. Anita Kale

Associate Professor, Dept. of Dravyaguna, Shri Ayurved Mahavidyalaya, Nagpur, Maharashtra, India.
Keywords:
Sadafuli, Catharanthus roseus, Aushadha, Rasapanchaka.
Abstract
Sadaphuli is a small shrub found everywhere in Indian gardens. It has flowers throughout the year and so it is called as Sadabahar. Catharanthus roseus natively called as "Periwinkle" in English is a common ornamental plant grown in the gardens of residential and official compounds. The (Periwinkle) Sadabahar is believed to be native of the West Indies but was originally described from Madagascar. It is cultivated as an ornamental plant almost throughout the tropical and subtropical area. It has been used internally for hypertension, loss of memory, Cystitis and gastritis, raised blood sugar levels, and diarrhoea. Traditionally this drug is used for Diabetes, Hypertension, Cardiac disease, Dysmenorrhoea etc. In India and other countries, it is commonly available varieties of Catharanthus (Sadabahar) are with red and white flowers. Catharanthus is a rich source of alkaloids, which gives the scientific platform to this drug as it contains Vincristine, Vinblastine etc.
Downloads
Download data is not yet available.
References
1. Sharma PV. Ayurveda ka VaijnanikaItihasa Abridged edition. Varanasi; Chaukhambha orientalia. 4th edition 2001, p-13.
2. Sofowora A. Medicinal Plants and Traditional in Africa. Chichester John Wiley and Sons, New York. 1993;p-97-145.
3. PKk Nair. Glimpses in plant research. V-4, 1979,p160.
4. Dr Hemamalini Balaji. Versatile Therapeutic effects of Vinca rosea Linn. International Journal of Pharmaceutical Science and Health Care. 2014;4(1):59-76
5. Senthilraja P, Kayitare John, Manivel G, Manikandaprabhu S, Anand Krishnamurthy. Potential compound derived from Catharanthus roseus to inhibit non-small cell lung cancer (NSCLC). Int J Res Ayurveda Pharm. 2015;6(2):265-271
6. Nejat N, Valdiani A, Cahill D, Tan Y, Maziah M, Abiri R. Ornamental Exterior versus Therapeutic Interior of Madagascar Periwinkle (Catharanthus roseus): The Two Faces of a Versatile Herb. The Scientific World Journal. 2015;1–19
7. Sain M, Sharma V. Catharanthus roseus (An anticancerous drug yielding plant) - A Review of Potential Therapeutic Properties. Int J Pure App Biosci. 2013;1(6):139-142.
8. Yadavaji Trikamji Acharya (ed). Sushruta Samhita. Varanasi: Chaukhamba Orientalia. 7th edition, 2002;207-8 verse 45/132-142.
9. Asma Nisar, Awang Soh Mamat, Md Irfan Hatim, Muhammad Shahzad Aslam, Muhammad Syarhabil Ahmad. Phytochemical and pharmacognostic study of Catharnthus roseus using deep eutectic solvents. Int J Res Ayurveda Pharm. Jul-Aug 2016;7(Suppl 3):141-146.
10. Punia Sandeep, Kaur Jagjit, Kumar Raman and Kumar Kuldeep. Catharanthus roseus: A medicinal plant with potent Anti-tumor properties. Int J Res Ayurveda Pharm. 2014;5(6):652-656.
11. M Santhosh Aruna, M Surya Prabha, N Santhi Priya, Ramarao Nadendla. Catharanthus Roseus: Ornamental Plant is now Medicinal Boutique. Journal of Drug Delivery & Therapeutics. 2015; 5(3):1-4.
12. S Satish, DC Mohana, MP Ranhavendra, KA Raveesha. Antifungal activity of some plant extracts against important seed borne pathogens of Aspergillus. J of Agricultural Technology. 2009:3:109-119.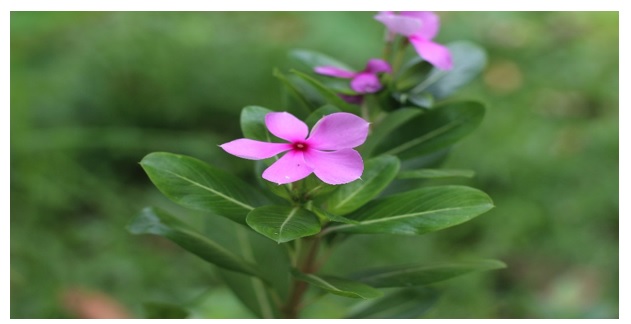 How to Cite
Dr. Anita Kale. (2021). A scientific review on Sadaphuli in Ayurveda. Journal of Ayurveda and Integrated Medical Sciences, 6(3), 94 - 99. Retrieved from https://jaims.in/jaims/article/view/1309
Copyright (c) 2021 Dr. Anita Kale
This work is licensed under a Creative Commons Attribution-NonCommercial-ShareAlike 4.0 International License.
Journal of Ayurveda and Integrated Medical Sciences (JAIMS) retains the copyright of the contents of this journal but grant the readers the right to use the contents with terms and conditions under a creative common attribution licenses 4 of Attribution, Share Alike and Non-commercial type (CC BY-NC-SA) that allows copy, distribute, display, and perform the work and make derivative works based on it only for non-commercial purposes.

This work is licensed under a Creative Commons Attribution-NonCommercial-ShareAlike 4.0 International License.