Aloe Vera – Nature's Power
Jyothsna Chowdary Kantam

Post Graduate Scholar, Department of Pedodontics and Preventive Dentistry, Bangalore Institute of Dental Sciences and Hospital, Bangalore-560029, Karnataka, India.

Kavita Rai

Professor & Head, Department of Pedodontics and Preventive Dentistry, Bangalore Institute of Dental Sciences and Hospital, Bangalore, Karnataka, India.

Nandan N.

Reader, Department of Pedodontics and Preventive Dentistry, Bangalore Institute of Dental Sciences and Hospital, Bangalore, Karnataka, India.
Keywords:
Aloe vera, Gingivitis, Mouth wash, anti-inflammatory, Oral lesions, Wound healing
Abstract
Aloe vera is a plant used in various fields like Homeopathy, Ayurveda, Allopathy, Siddha, Unani, cosmetology, dermatology and surprisingly even in dentistry. Aloe vera is richest source of health for humans with various benefits and properties like wound healing, anti-microbial, anti-inflammatory, immunomodulatory, anti-septic, anti-helmenthic and anti-oxidant. Aloe vera is used in dentistry as active ingredient in tooth pastes, tooth gels and mouth rinse for plaque control, treatment of various oral lesions, halitosis and gingivitis, as decontaminant in endodontics, in extraction sockets, dental implants and in denture care. This paper gives an overview of aloe vera plant, its ingredients, properties and various therapeutic and dental applications.
Downloads
Download data is not yet available.
References
Surjushe A, Vasani R, Saple DG. Aloe vera: a short review. Indian journal of dermatology 2008; 53 (4):163-166.
Renu Tanwar, Jyoti Gupta, Sheikh Asif, Rajneesh Panwar, Rashmi Heralgi. Aloe Vera and its uses in Dentistry. Indian J Dent Adv 2011; 3(4):656-658.
Meena M, Figueiredo NR, Trivedi K. Aloe vera – An Update for Dentistry. Journal of Dentofacial Sciences 2013; 2(4):1-4.
Shelton MS. Aloevera- its chemical and therapeutic properties. Int J Dermatol 1993;30:679-683.
Brown JP. A review of the genetic effects of naturally occuring flavanoids, anthraquinones and related compounds. J Mutat Res 1980;75:243-277.
Gupta K V, Malhotra S, Pharmacological attribute of Aloe vera: Revalidation through experimental and clinical studies, Ayu, 2012; 33(2):193-6
S. P. Mangaiyarkarasi, T. Manigandan1, M. Elumalai, Priyanka K. Cholan,Roopam Pal Kaur. Benefits of Aloe vera in dentistry. Journal of Pharmacy and Bioallied Sciences 2015;7( 1).
Tanwar R. Aloe Vera and its uses in Dentistry. Indian J Dent Adv 2011; 3(4):656-8
Erika Tayal, Divesh Sardana, K. R. InduShekar, Bhavna G. Saraf, Neha Sheoran. Current Perspectives on Use of Aloe vera in Dentistry. European Journal of Medicinal Plants 2014;4(12): 1408-19.
Babaee N, Zabihi E, Mohseni S, Moghadamnia AA. Evaluation of the therapeutic effects of Aloe vera gel on minor recurrent aphthous stomatitis. Dent Res J 2012;9:381‑5.
Hayes SM. Lichen planus—Report of successful treatment with aloe vera. Gen Dent 1999;47(3):268-272.
Choonhakarn C, Busaracome P, Sripanidkulchai B, Sarakarn P. The efficacy of Aloe vera gel in the treatment of oral lichen planus: A randomized controlled trial. Br J Dermatol 2008;158:573‑7.
Sudarshan R, Annigeri R.. Aloevera in treatment of Oral Submucous fibrosis- A preliminary study. J Oral Pathol Med 2010; 6(1):112-117.
Sudarshan R, Annigeri RG, Sree Vijayabala G. Aloe vera in the treatment for oral submucous fibrosis – A preliminary study. J Oral Pathol Med 2012;41:755‑61.
López-Jornet P, Camacho-Alonso F, Molino-Pagan D. Prospective, randomized, double-blind, clinical evaluation of Aloe vera Barbadensis, applied in combination with a tongue protector to treat burning mouth syndrome. J Oral Pathol Med 2013;42:295-301.
Ajmera N, Chatterjee A, Goyal V. Aloe vera: It's effect on gingivitis. J Indian Soc Periodontol 2013;17:435‑8.
Surekha Rathod, Priya Mehta, Trupti Sarda, Anubha Raj. Clinical efficiency of aloe vera chip as an adjunct to nonsurgical therapy in the treatment of chronic periodontitis. Int. J. Res Ayurveda Pharm 2015;694).
Bhat G, Kudva P, Dodwad V. Aloe vera: Nature's soothing healer to periodontal disease. J Indian Soc Periodontol 2011;15:205‑9.
Nidhin Naroor, Prashanth Shenai, LaxmikanthChatra, Veena KM, Prasanna, Kumar Rao, Rachana V Prabhu, TashikaKushraj, Prathima Shetty , Shaul Hameed. Aloevera: A boon to dentistry. World Journal of Pharmacy and Pharmaceutical Sciences 2014;3(8).
Biologic Effects of Aloe vera Gel. The internet Journal of Microbiology ISSN:1937-8289.
Sajjad A, Sajjad SS. Aloe vera: An Ancient Herb for Modern Dentistry—A Literature Review, Journal of Dental Surgery 2014; 5:48-50.
Poor M R, Hall J E, Poor A S. Reduction in the incidence of alveolar osteitis in the patients treated with the SaliCept patch , containing acemannan hydrogel. J Oral Maxillofac Surg 2002;60:374-79.
Tello CG, Ford P, Iacopino AM. In vitro evaluation of complex carbohydrate denture adhesive formulations. Quintessence Int 1998; 29(9):585-593.
Moore TE. Aloe vera: Its Potential Use in Wound Healing and Disease Control in Oral Conditions. Available from: www.iasc.org/moore.html.
Athiban PP, Borthakur BJ, Ganesan S, and Swathika B. Evaluation of antimicrobial efficacy of Aloe vera and its effectiveness in decontaminating gutta percha cones. J Conserv Dent 2012 ;15(3): 246–248.
Tulsi Subramaniam, Arun Subramaniam, Asha Chowdhery, Sreeja Das, Mishali Gill. Versatility of Aloe Vera in Dentistry- A review. IOSR Journal of Dental and Medical Sciences (IOSR-JDMS) 2014;13:98-102.
Mohammadmehdi Fani, Jamshid Kohanteb. Inhibitory activity of Aloe vera gel on some clinically isolated cariogenic and periodontopathic bacteria. Journal of Oral Science 2012; Vol. 54(1):15-21.
Gupta N, Bhat M, Devi P, Girish. Aloe vera: A natures gift to children. Int J Clin Pediatr Dent 2010;3: 87-92.
Kriplani R, hosar N, Baliga MS, Kulkarmi P, shah N, yeluri R. comparative evaluation of antimicrobial efficacy of various root canal filling materials along with aloe vera used in primary teeth: a microbiological study. J CLIN PEDIATR DENT 2013;37:257.
Abhishek Khairwa, Manohar Bhat, Rajesh Sharma, Satish V, Prabhadevi Maganur, Anil Kumar Goyal. Clinical and radiographic evaluation of zinc oxide with aloe vera as an obturating material in pulpectomy: An in vivo study.
George D, Bhat SS, Antony B. Comparative evaluation of the antimicrobial efficacy of Aloe vera tooth gel and two popular commercial toothpastes: An in vitro study. Gen Dent 2009; 57: 238:41.
Sambhav J, Rai R. Aloe-Vera: A Boon In Management Of Dental Disease. Int. J. Pharm. Res. Sci 2014; 2(1):18-24.
Ahmadi A. Potential prevention: Aloe vera mouthwash may reduce radiation‑induced oral mucositis in head and neck cancer patients. Chin J Integr Med 2012; 18: 635:40.
T. Reynolds and A. C. Dweck, "Aloe vera Leaf Gel: A Review Update," Journal of Ethnopharmacology 1999; 68:3-37.
CH Uma Reddy, Komar Suresh Reddy, Jaddu Jyothimai Reddy. Aloe vera – a wound healer. Asian journal of oral health and allied science 2011;1(1).
L. M. Cera, J. P. Heggers, M. C. Robson and W. J. Hag- strom, "The Therapeutic Efficacy of Aloe vera Cream (Dermaide Aloe) in Thermal Injuries. Two Case Re- ports," Journal of the American Animal Hospital Association 1980;16:768-772.
J. P. Heggers, G. R. Pineless and M. C. Robson, "Dermaide Aloe/Aloe vera Gel: Comparison of the Antimicro- bial Effects," The American Journal of Medical Techno- logy 1979; Vol. 41: 293-294.
J. P. Heggers, A. Kucukcelibi, C. J. Stabenou, F. Ko, L. D. Broemeling, M. C. Robson and W. D. Winters, "Wound Healing Effects of Aloe Gel and Other Topical Antibacte- rial Agents in Rat Skin," Phytotherapy Research 1995; 9(6):455-457.
R. M. Mariita, J. A. Orodho, P. O. Okemo, C. Kirimu- huzya, J. N. Otieno and J. J. Magadula, "Methanolic Ex- tracts of Aloe Secundiflora Engl. Inhibits in Vitro Growth of Tuberculosis and Diarrhea-Causing Bacteria," Phar- macognosy Research 2011; 3(2):95-99.
K. Saoo, H. Miki, M. Ohmori and W. D. Winters, "Anti- viral Activity of Aloe Extracts against Cytomegalovirus," Phytotherapy Research 1990; 10(4):348- 350
R. J. Sydiskis, D. G. Owen, J. L. Lohr, K. H. Rosler and R. N. Blomster, "Inactivation of Enveloped Viruses by Anthraquinones Extracted from Plants," Antimicrobial Agents and Chemotherapy 1991; 35(12):2463-2466.
O. O. Agarry, M. T. Olaleye and C. O. Bello-Michael, "Comparative Antimicrobial Activities of Aloe vera Gel and Leaf," African Journal of Biotechnology 2005;4(12):1413-1414.
Richard LW, Aloe vera gel: Update for dentistry, Pharmacology Today 2005;6-9
B. Joseph and S. J. Raj, "Pharmacognostic and Phyto-chemical Properties of Aloe vera Linn—An Overview," International Journal of Pharmaceutical Sciences Review & Research 2010; 4(2):106-110.
K. P. Sampath Kumar, Debjit Bhowmik, Chiranjib, Biswajit . Aloe vera : A Potential Herb and its Medicinal Importance. J. Chem. Pharm. Res 2010; 2(1): 21-29.
Amar Surjushe, Resham Vasani, D G Saple. ALOE VERA: A SHORT REVIEW. Indian J Dermatol 2008; 53(4).
Sanjay Sharma. Chemical Constitution, Health Benefits and Side Effects of Aloe Vera. Indian journal of research 2015;4 (6).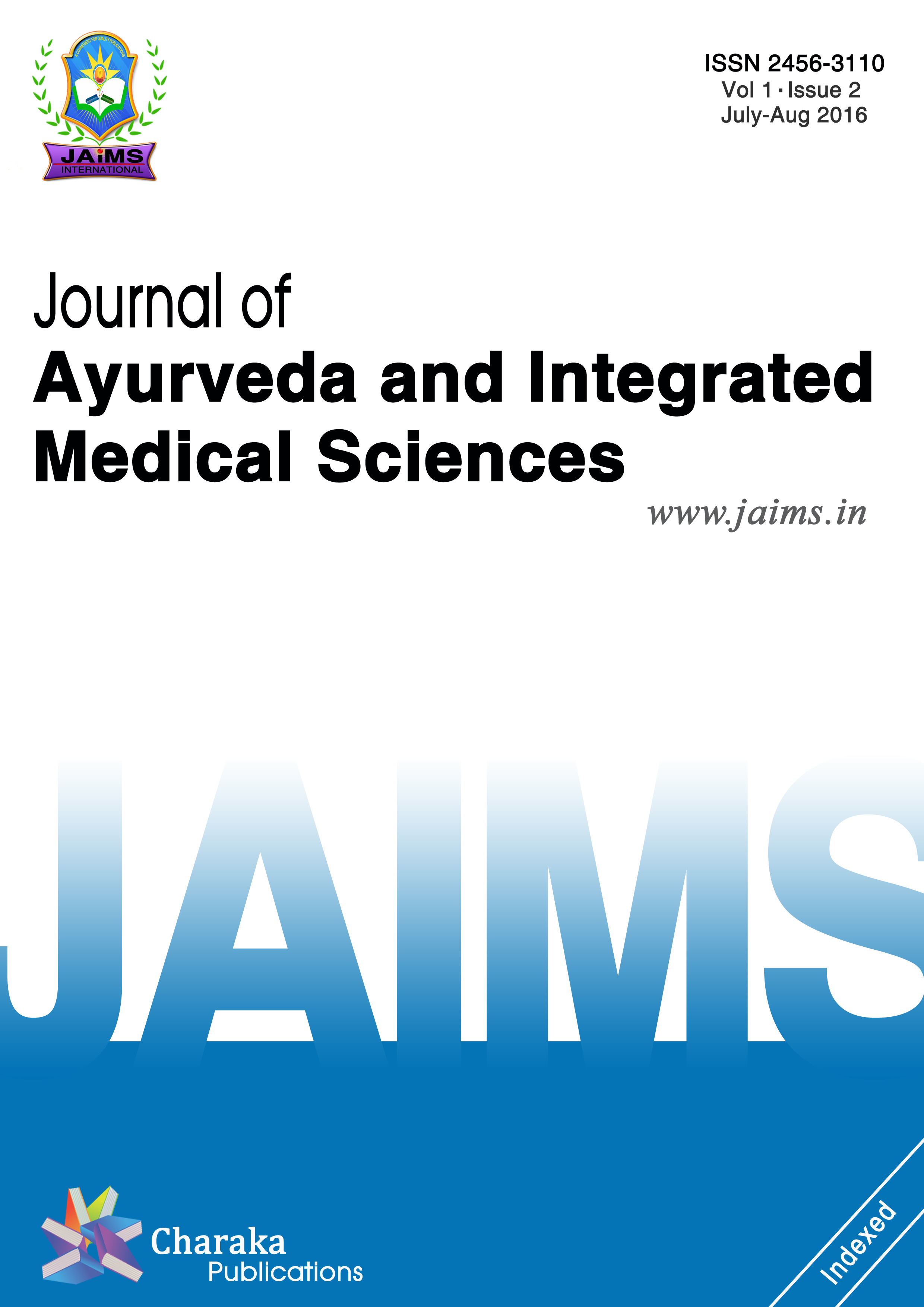 CITATION
DOI: 10.21760/jaims.v1i2.3664
How to Cite
Jyothsna Chowdary Kantam, Kavita Rai, & Nandan N. (2016). Aloe Vera – Nature's Power. Journal of Ayurveda and Integrated Medical Sciences, 1(02), 43-49. https://doi.org/10.21760/jaims.v1i2.3664
Journal of Ayurveda and Integrated Medical Sciences (JAIMS) retains the copyright of the contents of this journal but grant the readers the right to use the contents with terms and conditions under a creative common attribution licenses 4 of Attribution, Share Alike and Non-commercial type (CC BY-NC-SA) that allows copy, distribute, display, and perform the work and make derivative works based on it only for non-commercial purposes.

This work is licensed under a Creative Commons Attribution-NonCommercial-ShareAlike 4.0 International License.