Spices - An imperative melange - back to the roots
Dr. Noora Beegum

Post Graduate Scholar, Department of Pedodontics and Preventive Dentistry, Bangalore Institute of Dental Sciences & Hospital, Bangalore, INDIA.

Reshmi R.

Post Graduate Scholar, Department of Pedodontics and Preventive Dentistry, Bangalore Institute of Dental Sciences & Hospital, Bangalore, INDIA.

Nandan N.

Reader, Bangalore Institute of Dental Sciences & Hospital, Bangalore, INDIA.

Sunil Raj N.

Professor & Head, Bangalore Institute of Dental Sciences & Hospital, Bangalore, INDIA.

Soundarya Vishwanathan

Senior Lecturer, Department of Pedodontics and Preventive Dentistry, Bangalore Institute of Dental Sciences & Hospital, Bangalore, INDIA.
Keywords:
Ayurveda, Spices, Dentistry, Natural products
Abstract
Ayurveda is one of the world's oldest medical systems and remains one of India's traditional health care systems. Natural products have been used for thousands of years in traditional medicine for many purposes. Ayurveda has many evidences for the utilization of spices to cure various diseases. They not only increase the flavor of food but also have several therapeutic values. The objective of this article is to provide an overview regarding the health benefits of most commonly used spices and their applications in dentistry.
Downloads
Download data is not yet available.
References
Kshirsagar MM, Dodamani AS, Karibasappa GN, Vishwakarma PK, Vathar JB, Sonawane KR, Jadhav HC, Khobragade VR. Antibacterial activity of garlic extract on cariogenic bacteria: An in vitro study. Ayu. 2018 Jul;39(3):165.
Satheeshkumar N, Vijayan RS, Lingesh A, Santhikumar S, Vishnuvardhan C. Spices: Potential Therapeutics for Alzheimer's Disease. InThe Benefits of Natural Products for Neurodegenerative Diseases 2016 (pp. 57-78). Springer, Cham.
Sachan AK, Kumar S, Kumari K, Singh D. Medicinal uses of spices used in our traditional culture: Worldwide. J Med Plants Studies. 2018;6(3):116-22.
Dubey S. Indian Spices and their Medicinal Value. Indian Journal of Pharmaceutical Education and Research. 2017 Jul 1;51(3):S330-2.
Yuvaraj S, Antony S. An assessment of the erosive potential of commonly used Indian spices. Drug Invention Today. 2018 Sep 2;10.
Milind P, Deepa K. Clove: a champion spice. Int J Res Ayurveda Pharm. 2011 Jan;2(1):47-54.
Srinath J, Lakshmi T. Application of spices in dentistry-A literature review. Int J Drug Develop Res. 2014;6:1-9.
Katyal R, PrasharD.Nutritional aspects of four common spices used in dentistry. International Journal OfPharma Sciences and Research. Jan 2015;(6).
Xu JG, Liu T, Hu QP, Cao XM. Chemical composition, antibacterial properties and mechanism of action of essential oil from clove buds against Staphylococcus aureus. Molecules. 2016;21(9):1194.
Bhowmik D, Kumar KS, Yadav A, Srivastava S, Paswan S, Dutta AS. Recent trends in Indian traditional herbs Syzygiumaromaticum and its health benefits. Journal of Pharmacognosy and Phytochemistry. 2012;1(1):13-22.
Lee KG, Shibamoto T. Antioxidant property of aroma extract isolated from clove buds [Syzygiumaromaticum (L.) Merr. et Perry]. Food Chemistry. 2001 Sep 1;74(4):443-8.
Raghavenra H, Diwakr BT, Lokesh BR, Naidu KA. Eugenol—the active principle from cloves inhibits 5-lipoxygenase activity and leukotriene-C4 in human PMNL cells. Prostaglandins, Leukotrienes and Essential Fatty Acids. 2006 Jan 1;74(1):23-7.
Rahim ZH, Khan HB. Comparative studies on the effect of crude aqueous (CA) and solvent (CM) extracts of clove on the cariogenic properties of Streptococcus mutans. Journal of oral science. 2006;48(3):117-23.
Yadav RP, Tarun G. Versatility of turmeric: A review the golden spice of life. Journal of Pharmacognosy and Phytochemistry. 2017;6(1):41-6.
Nasri H, Sahinfard N, Rafieian M, Rafieian S, Shirzad M, Rafieian-Kopaei M. Turmeric: A spice with multifunctional medicinal properties. Journal of HerbMed Pharmacology. 2014;3.
Verma RK, Kumari P, Maurya RK, Kumar V, Verma RB, Singh RK. Medicinal properties of turmeric (Curcuma longa L.): A review. IJCS. 2018;6(4):1354-7.
Grover HS, Deswal H, Bhardwaj A. Curcumin: A medicinal plant and its effects in medicine and dentistry. International Journal of Contemporary Dental & Medical Reviews. 2015;2015.
Sharma A, Ahlawat B, Sharma S. Turmeric-Its Applications in Dentistry. J Adv Res Med. 2016;3(1):27-30.
Sachdeva A, Sharma A, Bhateja S. Emerging Trends of Herbs and Spices in Dentistry. Biomedical Journal. 2018;2:5.
Lee KH, Kim BS, Keum KS, Yu HH, Kim YH, Chang BS, Ra JY, Moon HD, Seo BR, Choi NY, You YO. Essential oil of Curcuma longa inhibits Streptococcus mutans biofilm formation. Journal of Food Science. 2011 Nov;76(9):H226-30.
Neelakantan P, Subbarao C, Sharma S, Subbarao CV, GarciaGodoy F, Gutmann JL. Effectiveness of curcumin against Enterococcus faecalis biofilm. ActaOdontologicaScandinavica. 2013 Nov 1;71(6):1453-7.
Kawatra P, Rajagopalan R. Cinnamon: Mystic powers of a minute ingredient. Pharmacognosy research. 2015 Jun;7(Suppl 1):S1.
Wisal GA. Antibacterial and Antifungal Effect of Cinnamon. Microbiology Research Journal International. 2018 May 10:1- 8.
Femine CG, Joy ET, Kiran MS. Efficacy of cinnamon in the treatment of orofacial conditions.
Gupta D, Jain A. Effect of cinnamon extract and chlorhexidinegluconate (0.2%) on the clinical level of dental plaque and gingival health: A 4-week, triple-blind randomized controlled trial. J IntAcadPeriodontol. 2015 Jul;17(3):91-8.
Al-Duboni G, Osman MT, Al-Naggar R. Antimicrobial activity of aqueous extracts of cinnamon and ginger on two oral pathogens causing dental caries. Research Journal of Pharmaceutical, Biological and Chemical Sciences. 2013 Jul;4(3):957-65.
Srinivasan K. Black pepper (Piper nigrum) and its bioactive compound, piperine. InMolecular targets and therapeutic uses of spices: Modern uses for ancient medicine 2009 (pp. 25-64).
Majeed M, Prakash L. The medicinal uses of pepper. International Pepper News. 2000 Jan;25(1):23-31.
Rani SS, Saxena N, Udaysree N. Antimicrobial activity of black pepper (Piper nigrum L.). Global J. Pharmacol. 2013;7:87-90.
Meghwal M, Goswami TK. Nutritional constituent of black pepper as medicinal molecules: A review. Open Access Scientific Reports. 2012;1(1):1-7.
Jayashankar S, Panagoda GJ, Amaratunga EA, Perera K, Rajapakse PS. A randomised double-blind placebo-controlled study on the effects of a herbal toothpaste on gingival bleeding, oral hygiene and microbial variables. Ceylon Medical Journal. 2011 Mar 28;56(1).
Geetha RV. In vitro anti bacterial activity of clove and pepper on streptococcus mutans. Asian Journal of Pharmaceutical and Clinical Research. 2015 Sep 1:269-70.
Mandal S, Mandal M. Coriander (Coriandrum sativum L.) essential oil: Chemistry and biological activity. Asian Pacific Journal of Tropical Biomedicine. 2015 Jun 1;5(6):421-8.
Ratha Bai V, Kanimozhi D. Evaluation of antimicrobial activity of Coriandrum sativum. Int J Sci Res Rev. 2012;1(3):1-0.
Neha Mohan PV, Suganthi V, Gowri S. Evaluation of antiinflammatory activity in ethanolic extract of Coriandrum sativum L. using carrageenan induced paw oedema in albino rats. Der Pharma Chemica. 2013;5(2):139-43.
Ahmad A, Husain A, Mujeeb M, Khan SA, Najmi AK, Siddique NA, Damanhouri ZA, Anwar F. A review on therapeutic potential of Nigella sativa: A miracle herb. Asian Pacific journal of tropical biomedicine. 2013 May 1;3(5):337-52.
Hanafy MS, Hatem ME. Studies on the antimicrobial activity of Nigella sativa seed (black cumin). Journal of ethnopharmacology. 1991 Sep 1;34(2-3):275-8.
Burits M, Bucar F. Antioxidant activity of Nigella sativa essential oil. Phytotherapy research. 2000 Aug;14(5):323-8.
Dwita LP, Yati K, Gantini SN. The Anti-Inflammatory Activity of Nigella sativa Balm Sticks. Scientia Pharmaceutica. 2019 Mar;87(1):3.
Abd-Awn BH, Al-Dhaher ZA, Al-Dafaai RR. The effect of black seed oil extracts on mutans streptococci in comparison to chlorhexidine gluconate (in vitro). Journal of baghdad college of dentistry. 2012;24(4):126-31.
Omar OM, Khattab NM, Khater DS. Nigella sativa oil as a pulp medicament for pulpotomized teeth: A histopathological evaluation. Journal of Clinical Pediatric Dentistry. 2012 Jul 1;36(4):335-41.
Al-Bayaty FH, Kamaruddin AA, Ismail MA, Abdulla MA. Formulation and evaluation of a new biodegradable periodontal chip containing thymoquinone in a chitosan base for the management of chronic periodontitis. Journal of Nanomaterials. 2013 Jan 1;2013:16.
Schöll I, Jensen-Jarolim E. Allergenic potency of spices: hot, medium hot, or very hot. International archives of allergy and immunology. 2004;135(3):247-61.
Chen JL, Bahna SL. Spice allergy. Annals of Allergy, Asthma & Immunology. 2011 Sep 1;107(3):191-9.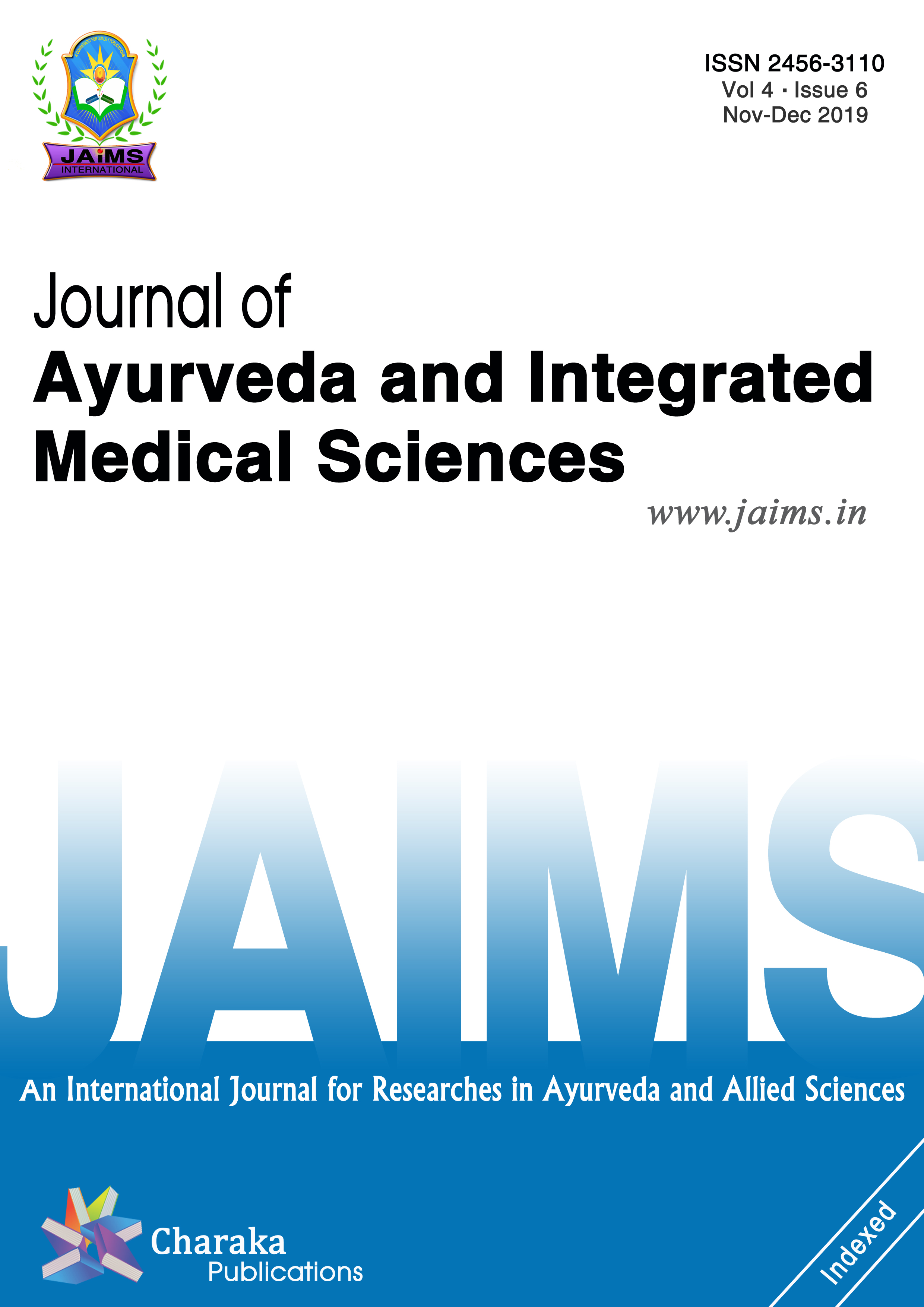 How to Cite
Dr. Noora Beegum, Reshmi R., Nandan N., Sunil Raj N., & Soundarya Vishwanathan. (2019). Spices - An imperative melange - back to the roots. Journal of Ayurveda and Integrated Medical Sciences, 4(06), 93-103. Retrieved from https://jaims.in/jaims/article/view/769
Journal of Ayurveda and Integrated Medical Sciences (JAIMS) retains the copyright of the contents of this journal but grant the readers the right to use the contents with terms and conditions under a creative common attribution licenses 4 of Attribution, Share Alike and Non-commercial type (CC BY-NC-SA) that allows copy, distribute, display, and perform the work and make derivative works based on it only for non-commercial purposes.

This work is licensed under a Creative Commons Attribution-NonCommercial-ShareAlike 4.0 International License.