Review on the disease Kustha and its management in Ayurvedic literature
Dr. Rozy Sharma

2nd Year Post Graduate Scholar, Dept. of Kaya Chikitsa, Sri Kalabhaireshwara Swamy Ayurveda Medical College and Research Centre, Bangalore, Karnataka, INDIA.

Dr. Manjunatha Adiga

Professor, Dept. of Kaya Chikitsa, Sri Kalabhaireshwara Swamy Ayurveda Medical College and Research Centre, Bangalore, Karnataka, INDIA.
Keywords:
Kushta, Psoriasis, Dermatological disorder
Abstract
Skin is a shield which protects us from various external invasions. Skin is the organ of the body which is readily available for inspection by the eyes. Of all the organs, skin is larger one and is exposed to disease and injury. Because of its visibility, skin reflects once emotions and it is the index of normal physiology. It is a link between internal and external environment and is also the seat of complexion which maintains beauty and personality. It creates an individual identity in the society. Changes in skin colour may be due to homeostatic imbalances in the body. Many inter related factors affect health of the skin, including nutrition, hygiene, circulation, age, immunity, genetic traits, psychological state and drugs. In Ayurveda, the word 'Twacha' or 'Charma' is used for skin. Twacha is derived from the Dhatu- Twach Samvarne meaning covering of the body. All the skin diseases in Ayurveda have been discussed under the broad headings of Kushta. Twacha is the seat of Sparshajnanendriya, which is one among seats of Vata and it is very extensive among all five Jnanendriyas.
References
Agnivesha, Charaka, Dridhbala, Charak Samhita, Chikitsasthana, Hindi Vidyotini Commentary by Pt. Kashinath Shastri and Dr. Gorakhnath Chaturvedi,Part 1, Reprint. : Chaukhamba Bharti Academy, Varanasi; 2002..

Sushrut Samhita, Shastri Ambicadutt. Dr., Varanasi: Chaukhamba Sanskrit Sansthan; 2002.Nidansasthana.5.

Vagbhata, Astanga Hrdayam Nidansthana, edited with 'Vidyotini' Hindi Commentary by Kaviraja Atrideva Gupta, edited by Vaidya Yadunandana Upadhyaya Chaukhamba Sanskrit Sansthan, Varanasi;2005.

Bhel Samhita, Nidan sthana, text with English translation commentary and critical notes by Dr.K.H.Krishnaurthy, edited by Prof.PriyaVrat Sharma Reprint : Chaukhamba Visvabharti, Varanasi;2008.

Byadgi P S. Kushtha. Parameswarappa's Ayurvediya Vikriti Vigyan & Roga Vigyan, 1st edition, Volume II. Varanasi, Chaukhambha Sanskrit Sansthan, 2009.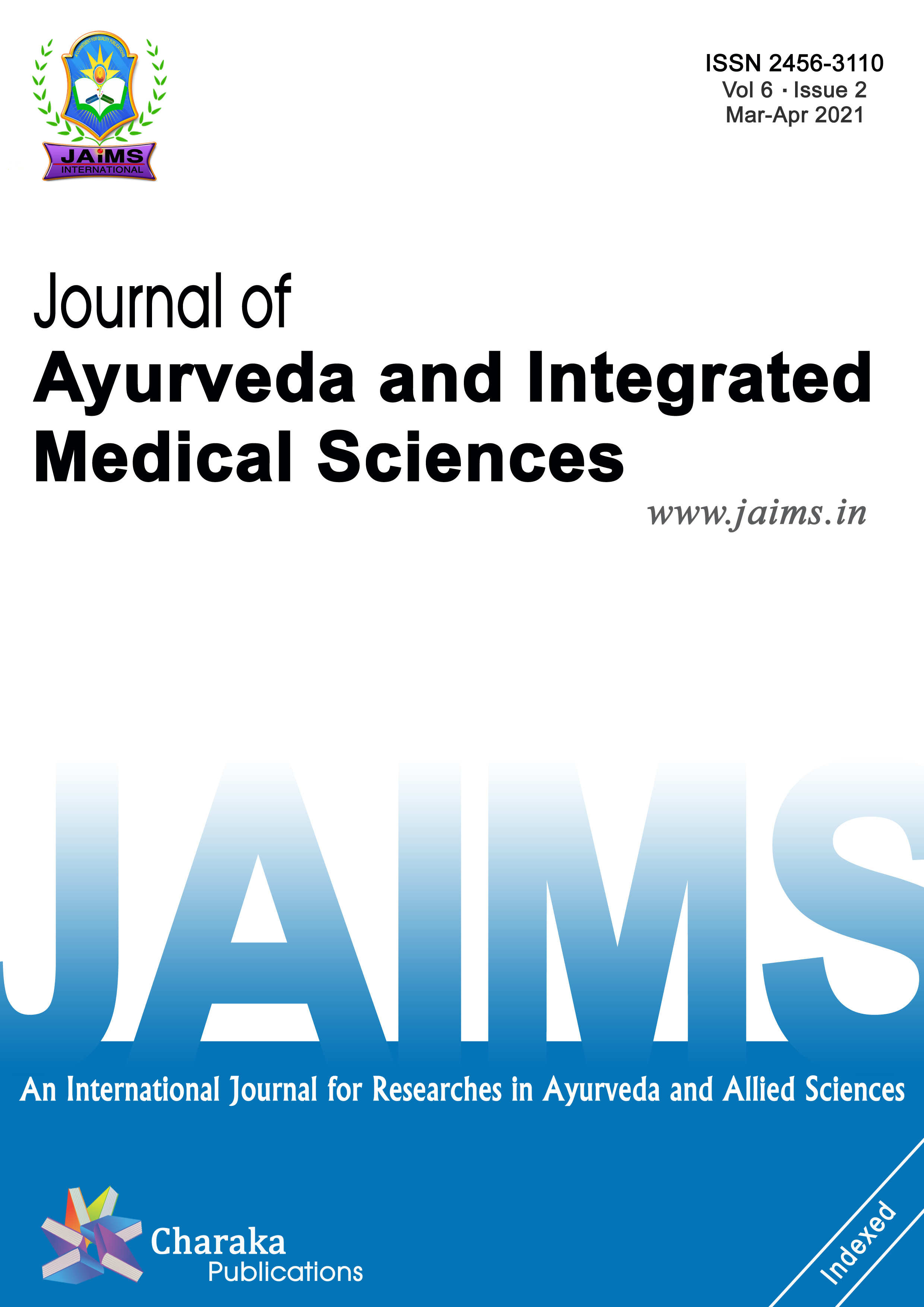 Journal of Ayurveda and Integrated Medical Sciences (JAIMS) retains the copyright of the contents of this journal but grant the readers the right to use the contents with terms and conditions under a creative common attribution licenses 4 of Attribution, Share Alike and Non-commercial type (CC BY-NC-SA) that allows copy, distribute, display, and perform the work and make derivative works based on it only for non-commercial purposes.

This work is licensed under a Creative Commons Attribution-NonCommercial-ShareAlike 4.0 International License.