Review of Netravarti
Dr. Harshada S. Shevalkar

Post Graduate Scholar, Department of Rasashatra and Bhaishajya Kalpana, Dr. D.Y. Patil College of Ayurved and Research Centre, Pimpri, Pune, Maharashtra, INDIA.

Dr. Arati Dubewar

Professor & H.O.D. Department of Rasashatra and Bhaishajya Kalpana, Dr. D.Y. Patil College of Ayurved and Research Centre, Pimpri, Pune, Maharashtra, INDIA.
Keywords:
Netravarti, Netra Kriyakalpa, topical treatment, Urdhvang Chikitsa
Abstract
Ayurveda mention "Ashtang Chikitsa" of which Urdhvang Chikista is important branch as it deals with treatment of Urdhvajatrugat Vicar i.e., above parts of neck. All vital organs are situated in head & out of that Eye is an important organ. Netra Kriyakalpa is same important as Panchakarma in Kayachikitsa. In this Kriyakalpa under 'Anjana' Kriya Netravarti Kalpana comes. Netravarti is very useful topical treatment of eye disorders & daily procedure to be performed for health of eye as mention in Dincharya. Now days everyone from child to oldest, is using mobile & computer which affects the health of eyes. So, in this article study of types Netravarti & Review of Netravarti in Ayurvedic literature is done.
References
Shri Indradev Tripathi, Gadanigraha of Shri Vaidya Sodhala, Vidyotini hindi Commentary, Chowkhamba sansthan, Part –III, (from Shalakya to Panchakarma) Edition Reprint 2005, Netrarogadhikar pg no 62-174

Acharya Priyavat Sharma, Susruta –Samhita Vol 3 Uttar-Kalpsthana, English translation of text and Dalhana's commentary, Chaukhamba Vishavabharati, First Edition year 2001pg 106-211

Dr H. Murthy, Sarangdhara samhita, English Translation, Chawkhamba Sanskrit series, First Edition 2001, Uttarkhanda, Netrakarmadhikara,13th chapter, pg no 399-410

Kaviraj Atridev Gupta, Astangahrdayam, Vidyotini hindi Commentary, Chowkhambha Sanskrit sansthan,14th Edition, 2003, Uttarsthan, 480-510

Vd Laxmipati Shastri, Yogratnakar Samhita, uttarardha, Netrarog chikitsa, Chauwkhambha prakashan, pg 364-365

Vd Santosh Khandal, Ras Bhaishjya Kalpana Vigyan, Edition 3rd, 2000, Publication Scheme Jaipur, Varti Kalpana, pg416-420

Kankanan Gamage Surangi, Shamsa Fiaz, Review of Anjana (corrylium) procedure and its probable mode of action, Int. J. Ayur. Pharma Research, 2016;4(7):34-42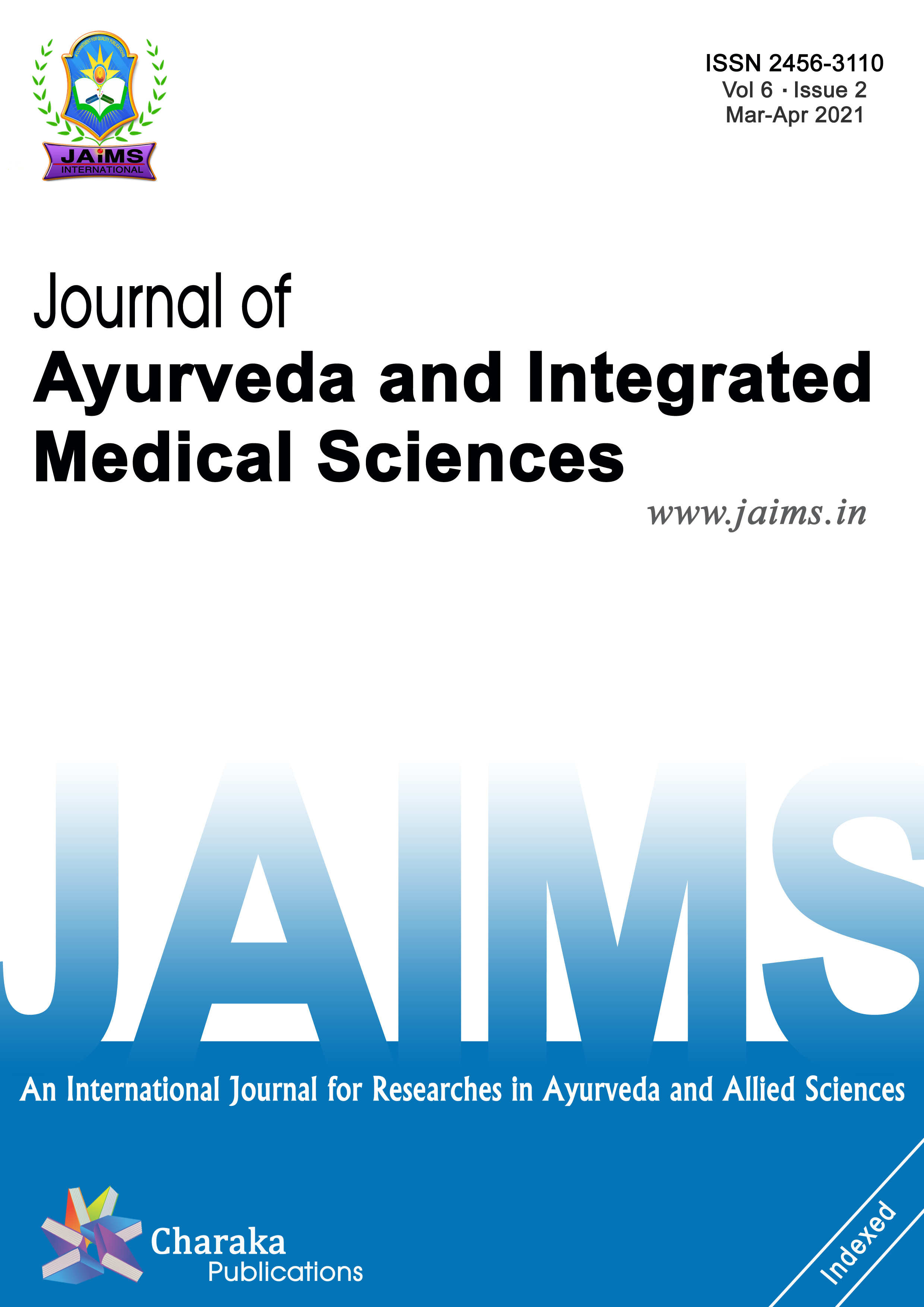 Journal of Ayurveda and Integrated Medical Sciences (JAIMS) retains the copyright of the contents of this journal but grant the readers the right to use the contents with terms and conditions under a creative common attribution licenses 4 of Attribution, Share Alike and Non-commercial type (CC BY-NC-SA) that allows copy, distribute, display, and perform the work and make derivative works based on it only for non-commercial purposes.

This work is licensed under a Creative Commons Attribution-NonCommercial-ShareAlike 4.0 International License.