PHYTO-CHEMICAL STANDARDIZATION OF HERBAL FORMULATION (PMM3) FOR BLOOD SUGAR ATTENUATING ACTIONS IN STREPTOZOTOCIN INDUCED RATS
Herbal formulation PMM3
Prabir Kr. Sinha Mahapatra

Associate Professor, Dept. of Pharmaceutical Chemistry, Institute of Pharmacy & Technology, Salipur, Orissa, India.

Tapas Kumar Sur

Senior Research Scholar, Dept. of Pharmacology, Institute of Postgraduate Medical Education & Research, Kolkata, West Bengal, India.

Alok K. Hazra

Research Officer, Chemistry Division, RKMA Quality Testing Laboratories, Kolkata, West Bengal, India.

Subhas C. Mandal

Professor, Division of Pharmacognosy, Dept of Pharmaceutical Technology, Jadavpur University, Kolkata, West Bengal, India.
Abstract
The present study was intended to prepare herbal formulation, PMM3 using purified and modified parts of five common Indian herbs like, Trigonella foenum-graccum, Tinospora cordifolia, Scoparia dulcis, Adhatoda vasica and Cassia occidental. PMM3 was standardized using physico-chemical, phyto-chemical, UV-VIS spectral, HPTLC, AAS and GC methods. The phenolics and flavonoids contents were assessed. Anti-hyperglycaemic activities of PMM3 was evaluated on Streptozotocin induced (50mg/kg, i.v) diabetic rats. PMM3 (50-150 mg/kg, p.o) exhibited best potentiality in reducing blood glucose within 14 days treatment in comparison with Diabecon® (Himalaya, India) at the same dose. The preset observation identified formulation PMM3 for anti-hyperglycaemic effect.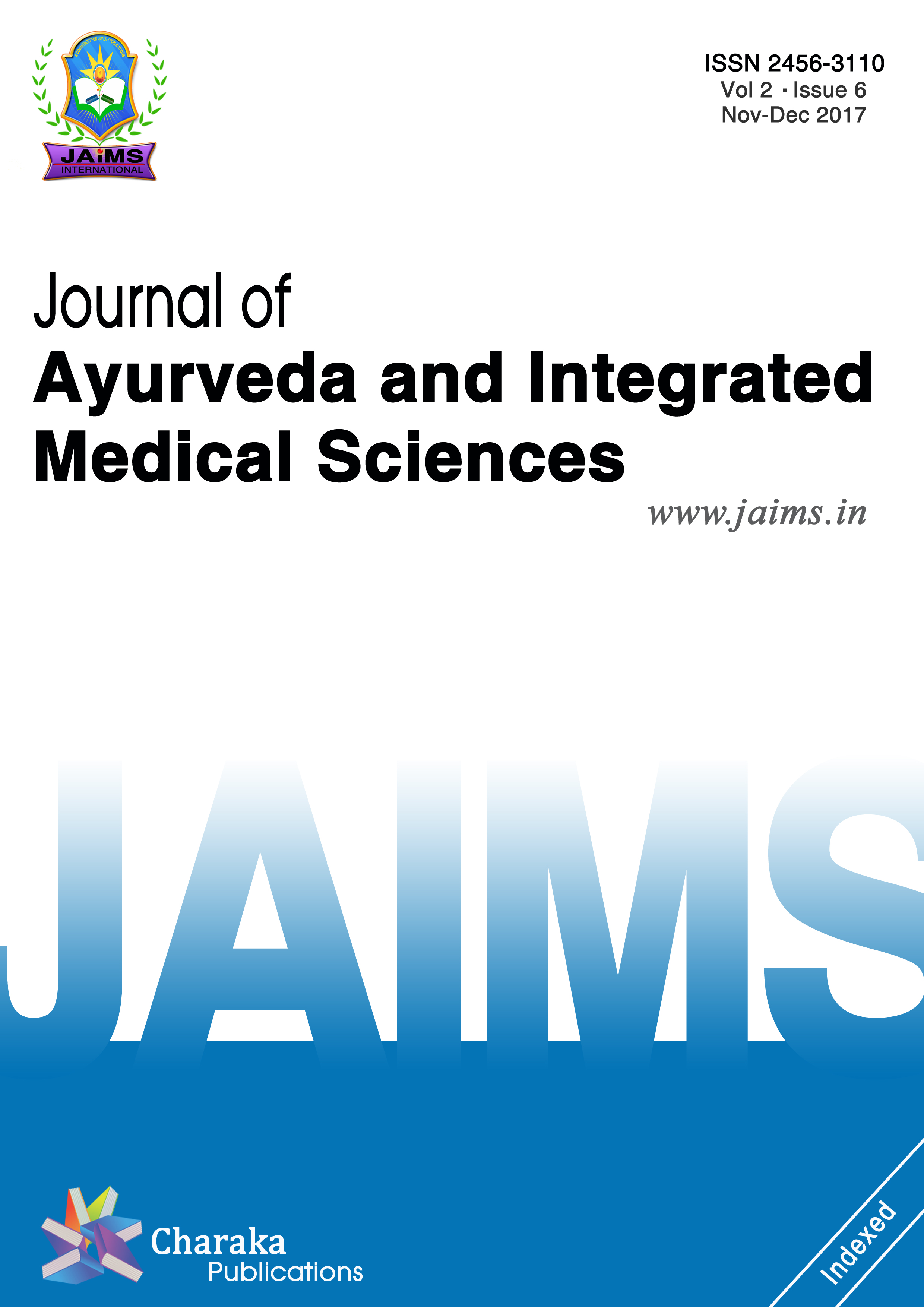 How to Cite
SINHA MAHAPATRA, Prabir Kr. et al. PHYTO-CHEMICAL STANDARDIZATION OF HERBAL FORMULATION (PMM3) FOR BLOOD SUGAR ATTENUATING ACTIONS IN STREPTOZOTOCIN INDUCED RATS.
Journal of Ayurveda and Integrated Medical Sciences (ISSN 2456-3110)
, http://www.jaims.in/index.php/jaims/pages/view/Citation, v. 2, n. 4, p. 26 - 33, sep. 2017. ISSN 2456-3110. Available at: <
https://jaims.in/index.php/jaims/article/view/337
>. Date accessed: 24 sep. 2018. doi:
https://doi.org/10.21760/jaims.v2i4.9324
.
This work is licensed under a Creative Commons Attribution-NonCommercial-NoDerivatives 4.0 International License.