Therapeutic potential of Zingiber roseum Roxb.
Ansari Rosi

Post Graduate Scholar, Department of Dravyaguna, Lalit Hari State P.G. Ayurveda College and Hospital, Pilibhit, Uttar Pradesh, India.

Mishra H.S

Lecturer, Department of Dravyaguna, Lalit Hari State P.G. Ayurveda College and Hospital, Pilibhit, Uttar Pradesh, India.

Agrawal Ajay Kumar

Professor and HOD, Department of Dravyaguna Lalit Hari State P.G. Ayurveda College and Hospital, Pilibhit, Uttar Pradesh, India.
Keywords:
Zingiber roseum, Zingiberaceae, Endangered, Phenol Compounds, Therapeutic uses
Abstract
Zingiber roseum Roxb, commonly known as the pink porcelain lily or pink ginger, is a plant species celebrated for its ornamental beauty and intriguing medicinal properties. Traditionally, the plant is being used by traditional healers for the treatment of disorders of gastrointestinal tract in Kheri district of Uttar Pradesh. This plant has been reported to be used in traditional healing system in other parts of the world especially Southeast Asia. Its appropriation with any of the classical drug has not been done till date. Plant has been reported to contain a wide variety of phytochemicals which make it a potential plant drug to be used for therapeutic purposes. In pharmacological screening studies, biological activities like Antioxidant, Antimicrobial, Immunomodulatory, Anticancer, Antiviral, Antifungal, Anti-inflammatory and many more have been demonstrated in different plant parts and fractions. Plant is considered to be native to Southeast Asia. It has been designated as endangered in IUCN plant list and needs attention. Present paper is an attempt to review different aspects pertaining to Z. roseum including botanical characteristics, phytochemical composition, and diverse therapeutic applications of Zingiber roseum.
Downloads
Download data is not yet available.
References
Christenhusz, Maarten J.M.; Byng, James W. (2016). The number of known plants species in the world and its annual increase. Phytotaxa. 261 (3): 201. doi:10.11646/phytotaxa.261.3.1.
Mahawer SK, Kumar R, Prakash O, Arya S, Singh S, de Oliveira MS, Rawat DS.( 2023); 23(11)A, Comprehensive Review on Phytochemistry, Ethnopharmacology, and Pharmacological Properties of Zingiber roseum (Roxb.) Roscoe., Curr Top Med Chem. P.931-942. doi:10.2174/1568026623666230126143635. PMID: 36703584.
Babu, C.R, 1977, Herbaceous flora of Dehradun. New Delhi, publication and information directorate CSIR
Premram A.S.K, Archana Parki, Pinky et al (2018) Phytochemical Diversity Among Parts of Zingiber roseum Rosc. Extracts With Their Antioxidant and Antifungal Activity, Journal of Biologically Active Products from Nature, 8:4, 255-64, DOI: 10.1080/22311866.2018.1499439
Ganesan, S., Pandi, N.R., and N.Banumathy,(2007). Ethnomedicinal Survey Alagarkoil hills (reserved forest), Tamil Nadu, India, ejournal of Indian medicine vol1(1) p. 18-18.
Padal S.B, Ramakrishna H, Devender, R. (2012). Ethnomedicinal studies for endemic diseases by the tribes of Munchingiputtu Mandal, Visakhapatnam District, Andhra Pradesh, India. Int J Med Aromatic Plants (IJMAP)vol2,no3,pp:453-459. Visakhapatnam District, Andhra Pradesh, India.
Devi N.B, Das A.K, Singh P.K (2016). Z. roseum (Zingiberaceae): A new record of Ginger from Imphal Valley District, Manipur. Indian Journal of Applied Research, Volume: 6.
A.Muhammed, Gautam S, Chalotra R, L. Kanhaiya , Gupta T (2023). Zingiber roseum Roscoe. (Zingiberaceae): Current and future perspective. Pharmacological Research Modern Chinese Medicine. 7. 100258.
Mu A.M. (2016).Taxonomic study of the genus Zingiber Mili.(Zingiberaceae) in Myanmar, Kochi University.
Sonawane L, Sonawane P & Kulkarni M (2020). New distributional record of Zingiber roseum (Roxb.) Roscoe from Satpuda hill ranges of Jalgaon district, Maharashtra, India. Tropical Plant Research 7(3): 619–621.
Sasidharan N. Zingiber roseum (Roxb.)Rosc India biodiversity portal https://indiabiodiversity.org/species/show/264132.
Thirumalai T. Kelumalai, E. Senthilkumar, B.and David E. (2009).Ethnobotanical Study of Medicinal Plants used by the Local People in Vellore District, Tamil Nadu, India," Ethnobotanical Leaflets:Vol.2009:IssUE.10.
Rao S., Swamy R.K, Kumar D., Singh A. R. and Bhat K. G. (2019).flora of peninsular India http://peninsula.isc.ac.in/plants.
Ojha Mamta (2022) Determination of Rasa of some Extra Pharmacopeial Drugs used in Local Health Traditions in Pilibhit District of Uttar Pradesh. Ayu.(Dravyaguna).
Mittal D.K., Jena, A.K Joshi,D.(2013).Ameliorative effects of Polygonum bistorta and Z. roseum on CCl4 treated rats. World J,Pharm. Pharmaceuti.sci, vol 2:3522-31.
Ram, A.J., Bhakshu L.M. and Raju R.R.V.(2004) In vitro antimicrobial activity of certain medicinal plants from Eastern Ghats, India, used for skin diseases, Journal of Ethnopharmacology.90(2-3): p.100244.
Mishra,H.S.(2007),Studies on herbal drugs used as Ethno-medicine by the Tharu Tribes of Kheri District (U.P. INDIA) M.D.Ayu.(Dravyaguna)
Mahawer S. K., Karakoti H., Prakash O., Kumar S., Rawat D. S. et al (2023). Altitudinal variability in chemical profile and pesticidal properties of Zingiber roseum (Roxb.) Roscoe extracts. Biochemical Systematics and Ecology, 110, 104708.
Palayam V.P., Pragadheesha S., Yadava Anju, Singha Manju and Chanotiya C.S. (2013). Characterization of Volatile Components of Zingiber roseum Essential Oil Using Capillary GC on Modified Cyclodextrins, Natural Product Communications Vol. 8 No. 2 ,221–4.
Kirana,C., McIntosh., Record,I.R., & Jones, G.P. (2003). Antitumor activity of extract of Zingiber aromaticum and its bioactive sesquiterpenoid Zerumbone. Nutrition and cancer, 45(2), 218-225.
M. Al-Amin, et al.,(2019) Antimicrobial activity of the crude extract, fractions and isolation of zerumbone from the rhizomes of Zingiber roseum, J. Res. Pharmacy 23 (3) 559-566.
Sulaiman, M. R., Perimal, E. K., Zakaria, Z. A., Mokhtar, F., Akhtar, M. N., Lajis, N. H., & Israf, D. A. (2009). Preliminary analysis of the antinociceptive activity of zerumbone. Fitoterapia, 80(4), 230-232.
Dai, J. R., Cardellina, J. H., Mahon, J. B. M., & Boyd, M. R. (1997). Zerumbone, an HIV-inhibitory and cytotoxic sesquiterpene of Zingiber aromaticum and Z. zerumbet. Natural Product Letters, 10(2), 115-118.
Benavente-García, O., Castillo, J., Marin, F. R., Ortuño, A., & Del Río, J. A. (1997). Uses and properties of citrus flavonoids. J of agricultural and food chemistry, 45(12), 4505-15.
C. Manach, A. Mazur, A. Scalbert,(2005) Polyphenols and prevention of cardiovascular diseases, Curr. Opin. Lipidol. 16 (1),77–84.
E. Middleton, C. Kandaswami, T.C. Theoharides,(2000) The effects of plant flavonoids on mammalian cells: implications for inflammation, heart disease, and cancer, Pharmacol. Rev. 52 (4),673–751.
R. Puupponen-Pimia, L. Nohynek, C. Meier, M. Kahkonen, M. Heinonen, A. Hopia, K.M. Oksman-Caldentey,(2001) Antimicrobial properties of phenolic compounds from berries, J. Appl. Microbiol. 90 (4), 494–507.
Gupta VK, R. Kumria, Garg M., Gupta M.,(2010) Recent updates on free radicals scavenging flavonoids: an overview, Asian J. Plant Sci. 9 (3) (2010) 108–117.
Shahidi F., Janitha P., Wanasundara P., (1992) Phenolic antioxidants, Crit. Rev. Food Sci. Nutr. 32 (1),67–103.
Amanat M, Reza MS, Shuvo MSR, Ahmed KS, Hossain H, Tawhid M, et al (2021). Zingiber roseum Rosc. Rhizome: A rich source of hepatoprotective polyphenols. Biomed Pharmacother. doi: 10.1016/j.biopha.2021.111673. Epub PMID: 33965729.
Prakash O., Pant A.K., Mathela C.S., (2006) Linalool-Rich Essential Oil from the Rhizomes of Zingiber roseumRosc., Journal of Essential Oil Research, 18:6, 638-639, DOI: 10.1080/10412905.2006.9699190.
Prakash O., Kasana V.K., Pant A.K., Zafar A, Hore.S.K., Mathela C.S,(2006) Phytochemical composition of essential oil from seeds of Zingiber roseum Rosc. and its antispasmodic activity in rat duodenum, J. Ethnopharmacol. 106 (3) P. 344–347.
Pakalapati S., Devara, G.B. and Mamillapalli, A. (2013). Antioxidant, antiproliferative and antimicrobial activities study of Zingiber roseum rosc., an endangered medicinal plant. International Journal of Scientific Research. 2(7): 2277-8179.
Arya ,P.K.Suresh,(2016) Phytochemical analysis and biological activity determination of zingiber roseum ROSC Krishikosh.p.202.
F.A. Macias, et al.(1999),Terpenoids With Potential Use As Natural Herbicide Templates, CRC Press, Boca Raton, FL, USA.
Lucia, A., et al.(2007),Larvicidal effect of Eucalyptus grandis essential oil and turpentine and their major components on Aedes aegypti larvae. 23(3): p. 299–303.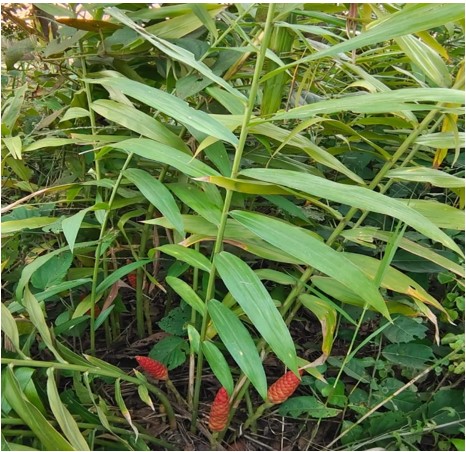 CITATION
DOI: 10.21760/jaims.8.9.18
How to Cite
Ansari Rosi, Mishra H.S, & Agrawal Ajay Kumar. (2023). Therapeutic potential of Zingiber roseum Roxb. Journal of Ayurveda and Integrated Medical Sciences, 8(9), 112 - 119. https://doi.org/10.21760/jaims.8.9.18
Copyright (c) 2023 Ansari Rosi, Mishra H.S, Agrawal Ajay Kumar
This work is licensed under a Creative Commons Attribution-NonCommercial-ShareAlike 4.0 International License.
Journal of Ayurveda and Integrated Medical Sciences (JAIMS) retains the copyright of the contents of this journal but grant the readers the right to use the contents with terms and conditions under a creative common attribution licenses 4 of Attribution, Share Alike and Non-commercial type (CC BY-NC-SA) that allows copy, distribute, display, and perform the work and make derivative works based on it only for non-commercial purposes.

This work is licensed under a Creative Commons Attribution-NonCommercial-ShareAlike 4.0 International License.